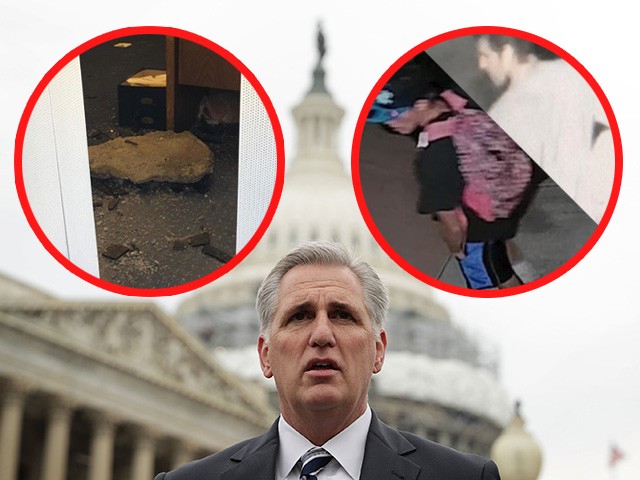 House Majority Leader Kevin McCarthy's (R-CA) office in Bakersfield, CA, was vandalized by two men who threw a boulder through the window, according to McCarthy.
"Does anyone know these two guys? They threw a boulder thru our office window and took office equipment," McCarthy wrote on Instagram.
Included in McCarthy's post are photos of the two suspects and the damage done to the window and office by the boulder
This is the third Republican office to be hit with vandalism in less than two months.
Back in September, and just two days after it opened, a local Republican office in Wyoming was hit with a deliberate arson fire.
Less than two weeks ago, the left-wing terrorist group Antifa vandalized the Metropolitan Republican Club in Manhattan.
The vandalism attack on McCarthy's office might just be a theft. There is no news yet of a motive. But it could also be yet another politically-motivated act of violence against Republicans, which we have seen an epidemic of with the rise of Donald Trump.
As the establishment media look the other way, downplay, and even encourage (as CNN does frequently) this hate, as of now Breitbart News has documented over 610 individual acts of violence, vandalism, threats, and harassment against Trump and his supporters.
Follow John Nolte on Twitter @NolteNC. Follow his Facebook Page here.
http://feedproxy.google.com/~r/breitbart/~3/mN_dY8qjvMQ/