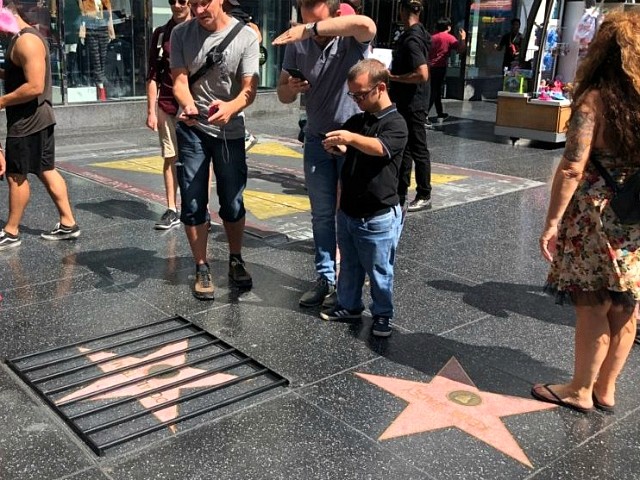 A British-born "street artist" named Plastic Jesus placed prison bars atop President Donald Trump's Hollywood Walk of Fame star on Wednesday.
"Today I put @realDonaldTrump behind bars. #donaldtrump #ImpeachTrump," the vandal tweeted with a video of the stunt. 
Today I put @realDonaldTrump behind bars. #donaldtrump #ImpeachTrump pic.twitter.com/WwYgEfLIMt

— Plastic Jesus (@plasticjesusart) September 19, 2018
The "artist" gleefully shared a photo of the stunt with his nearly 73 thousand Instagram followers.
"There have been calls to jail Trump since the day he was elected, and today he was certainly put behind bars," the vandal wrote in an email to the Huffington Post. "Although it was very quickly damaged by a Trump supporter trying to remove it the bars did appear to be stuck fast and were there several hours later ― to the amusement of thousands of passing tourists."
Of course, this is not the first vandalism incident involving the president's star. As Breitbart News reported, 24-year-old Austin Clay was charged August 6 with one felony count of vandalism for allegedly smashing President Trump's star to pieces. According to Los Angeles prosecutors, Clay destroyed the star with a pickax on July 25 and now faces up to three years in prison if convicted.
Just days prior to the 2016 presidential election, James Otis destroyed the star with a sledgehammer, later pleading no contest to a felony and sentenced to community labor. Otis was also ordered to dish out $4,400 to cover the cost to repair the damages.
On the same day Clay was charged, West Hollywood City Council voted unanimously on a resolution to request the City of Los Angeles and Hollywood Chamber of Commerce to remove the president's star over his "disturbing treatment of women and other actions."
West Hollywood City council unanimously passes resolution asking the Hollywood Chamber of Commerce to remove the Donald Trump star on Hollywood Walk of Fame. #horcruxdestroyed #bellicose #belligerent #unAmericanvalues #MakeAmericaintoAmericaAgain

— JohnDuran (@JohnDuran) August 7, 2018
"The West Hollywood City Council did not pass the resolution because Donald Trump is a conservative or a Republican," West Hollywood Mayor Pro Tem John D'Amico told The Wrap. "Earning a star on the Hollywood Walk of Fame is an honor. When one belittles and attacks minorities, immigrants, people with disabilities or women — the honor no longer exists."
However, it appears not all of California's leading lawmakers agree with removing the star. Two days after the resolution's passage, Los Angeles Mayor Eric Garcetti told TMZ that Democrats "should be focused less on sidewalk problems and more on replacing a Congress that enables him."
"You know, every moment we're out there fighting these fights or just on our Twitter feed, our moments we could be registering votes and actually flipping this Congress," added the 2020 hopeful. "That's where I'm going to spend my energy."
http://feedproxy.google.com/~r/breitbart/~3/7B7z6Cezo7c/