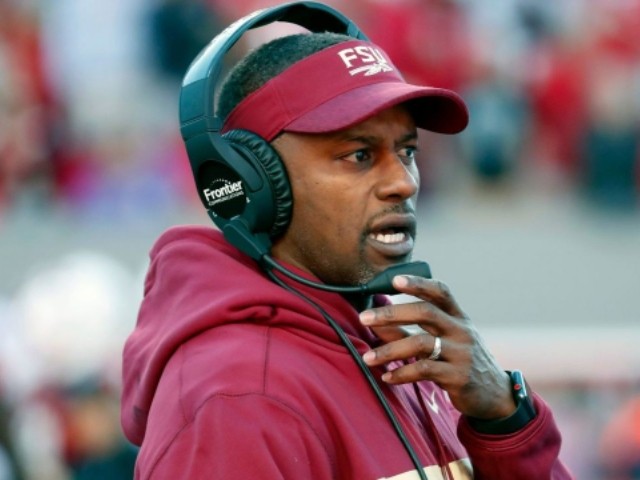 A man has been suspended from his job at Hilton Grand Vacations after posting an image to Facebook on Saturday, of Florida State University coach Willie Taggart being lynched.
The employee was called on the carpet after he posted an image to an FSU fan page of Taggart's face superimposed over a photo of a lynched black man. The photo was posted after FSU's 41-14 loss to the Florida Gators, the Tallahassee Democrat reported.
"Our concern regarding this situation is a top priority," said Lauren George, a spokeswoman for Orlando-based Hilton Garden Vacations. "The team member responsible has been suspended while further action is being considered. We want to ensure all Team Members' behavior is consistent with our values and code of conduct."
Taggart is the first black man hired as head coach for the FSU Seminoles. The Noles went 5-7 in Taggart's first campaign, and FSU did not make a bowl game for the first time in more than 30 years.
News of the racist post spread quickly and by Sunday FSU President John Thrasher put out a statement calling the social media post "despicable."
"I speak for the entire FSU community in expressing our disgust and extreme disappointment," Thrasher said, "and I am glad the state attorney is investigating. Coach Taggart has our full support, and as true Seminoles know, he is a respected member of the FSU family."
UPDATE: Hilton Grand Vacations has terminated the employee who made the racist post. According to Senior Manager for External Communications Lauren George: "Our concern regarding this situation has been a top priority. The person responsible for posting this information has been terminated. His behavior was in violation of multiple company policies and the furthest example from being a reflection of our company's values."
Follow Warner Todd Huston on Twitter @warnerthuston.
http://feedproxy.google.com/~r/breitbart/~3/xLQKR1BW97U/