Donald Trump Jr. and Kimberly Guilfoyle joined Charlie Kirk and Candace Owens on the second stop of Turning Point USA's Campus Clash tour Tuesday at the University of Georgia. The four spoke to an audience of 1,500 students and supporters, but one protester took issue with Owens' race.
Among the crowd were protesters who seemed to take displeasure in the fact that Owens is a black conservative.
"You're not black!" Shouted one agitator while Owens explained why she left the Democratic Party.
"[The Left] believes that someone loses their blackness as soon as they become a conservative," reacted Kirk, "They did this to Clarence Thomas, they did this to Dr. Ben Carson, and now they're doing this to Candace Owens."
"Make no mistake, the Left believes that they own black people," added Owens, "So when a black person has the audacity to stand on stage and say—I no longer agree with these policies, and I would like to think with my brain as opposed to my skin tone, they lose their minds."
The exchange begins at 1:56:40
The event's atmosphere, however, exuded upbeat patriotism and was followed by an engaging Q&A session, with questions coming from both supporters and dissenters who chose to stay and seek dialogue with the four panelists.
One particularly unifying question came from a student who asked Trump Jr. if she could record him saying hello to her brother, who is currently deployed aboard the USS Harry S. Truman.
"Thank you for everything that you're doing. You exemplify what's great in America — we want to support our military and our veterans. We want to make sure that we have strength so that we don't have to go to war. Thank you for what you're doing, Robert," said Trump Jr., which was followed by cheers and a standing ovation. (2:01:40)
"It feels like we're winning the culture war," said Guilfoyle to Breitbart News after the event, "It's a transformative time in American politics, you've never seen conservative youth more engaged, or more involved with what's going on in our country, and having a vested interest in being a part of it."
"The energy in the room was incredible," added Trump Jr.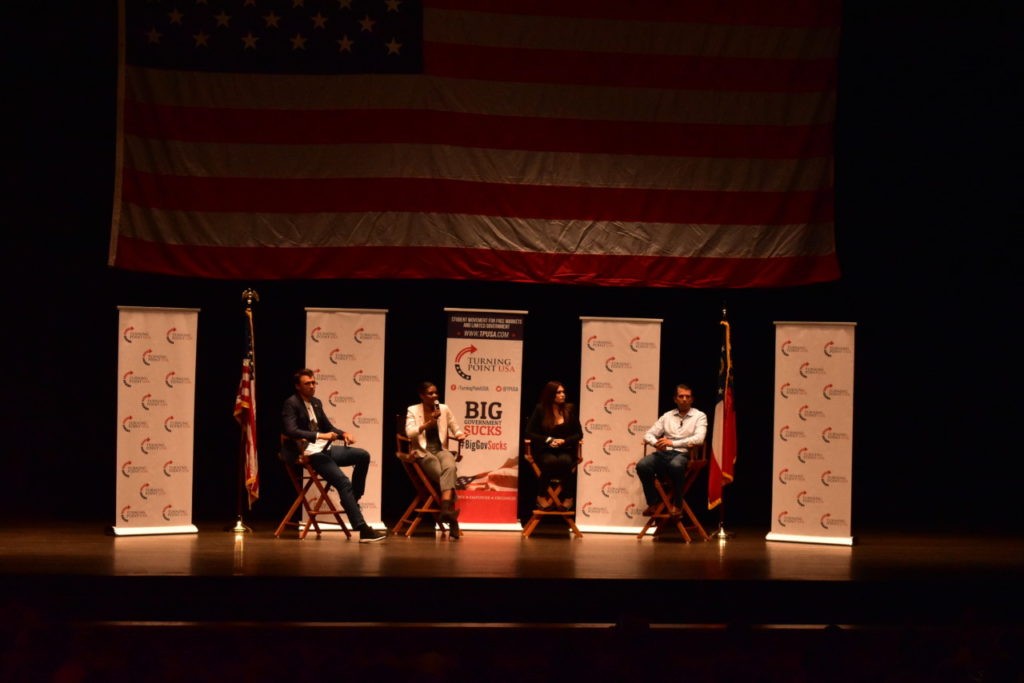 "It's unbelievable to see how the silent majority is silent no longer," said Kirk, "and how many conservatives there are on college campuses, despite the intolerance of the Left, trying to shut us up."
The next stop on the Campus Clash tour will be on October 16 at DePaul University, where Kirk and Owens will be speaking to students, despite having been blacklisted by the university for reasons that DePaul has not commented on.
You can follow Alana Mastrangelo on Twitter at @ARmastrangelo and on Instagram.
http://feedproxy.google.com/~r/breitbart/~3/6KoQVfmF6xc/