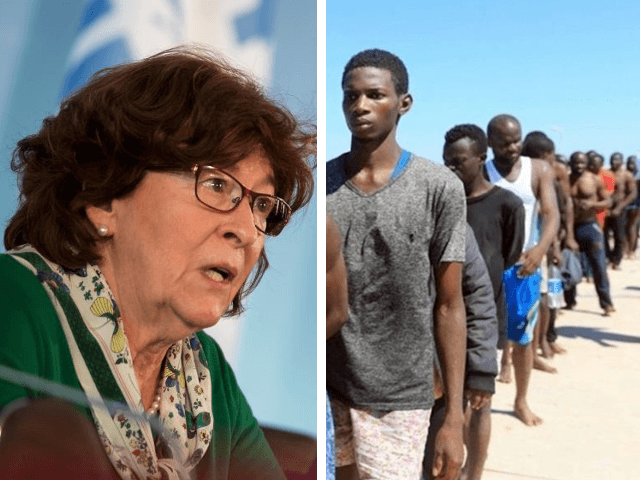 The UN slammed "xenophobic" terms like "illegal immigrant" which it said was behind "negative reactions" to the migration pact, as Latvia revealed it would be the latest nation to withdraw from the controversial agreement.
On Thursday, lawmakers in Latvia voted 43 in favour and 31 against a resolution urging the government not to sign the Baltic country up to the so-called Global Compact for Safe and Orderly Migration, which is due to be ratified in Marrakech in just a few days' time.
Though the government had previously expressed its full support for the framework, which declares mass migration to be "inevitable, necessary and desirable", earlier in the week Latvia's outgoing Prime Minister, Maris Kucinskis, promised to "adhere to parliament's decision, whatever the outcome," reported AFP.
Explaining why she voted to keep Latvia out of the agreement, New Conservative Party (NCP) lawmaker Dagmāra Beitnere-Le Galla, said the country "cannot be allowed to commit suicide", adding that she could not support joining a treaty "so poorly prepared for a document that may have major implications throughout the entire world".
Jānis Dombrava from National Alliance, meanwhile, pointed out that despite multiple deputies' insistence that nothing in the pact is legally binding,  the terms "commit" and "commitment" feature dozens of times in the document, which imply certain duties.
Law Professor: UN Migrant Pact May be 'Non-Binding' But Will Create Legal 'Framework' https://t.co/W278zVfRNO

— Breitbart London (@BreitbartLondon) November 22, 2018
Despite the fast-growing list of countries pulling out of the agreement, some of the most recent of which include Italy, Slovakia, and Bulgaria, it was reported Friday that UN special representative for migration, Louise Arbour, was feeling "very confident" about the compact's future.
Commenting on the document, which is due to be signed on Monday, she said: "There are many different issues at stake: economic, to maximise the positive effects of migration on economies of host countries, on countries of origin, on the migrants themselves, on communities which receive them.
"Humanitarian issues are at stake: to save lives, to better cooperate and better manage irregular migration, with people in transit countries in very vulnerable situations," she said, adding: "So, there are security, political, economic, humanitarian aspects."
Asked why there has been backlash over the 32-page document, Arbour told AFP: "Talk on migration, for a very long time, has always focused on negative aspects: in the media, in conversations, there is a lot of emphasis on irregular migration, talk of illegal migrants."
Lamenting there had been a "resurfacing of this language, which in some cases is xenophobic", the UN envoy claimed the migration compact was seeking to "restore equilibrium to stress in part the positive aspects [of mass migration]".
Hungary Attacks UN Migration Compact for Attempting to 'Legalise Illegal Immigration' https://t.co/fLLTQMQ5PN

— Breitbart London (@BreitbartLondon) November 24, 2018
http://feedproxy.google.com/~r/breitbart/~3/egJQcSXLxfo/