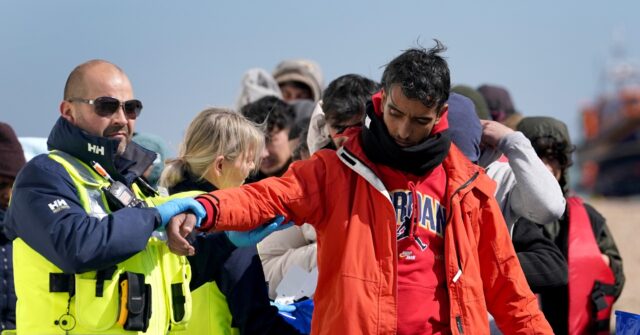 The British government will reportedly introduce mandatory age checks for illegal migrants who claim to be children as a migrant claiming to be 17 to better his chances at receiving asylum was revealed to be a 42-year-old former ISIS fighter with a full beard.
In a concession to the right wing of his party, Prime Minister Rishi Sunak has reportedly agreed to amend the upcoming Illegal Migration Bill to require that migrants claiming to be minors undergo physical checks, such as x-rays of teeth and hands or MRI scans of knee and collar bones to determine whether or not they are in reality an adult, the Times of London reported.
The issue of illegals claiming to be children in order to better their chances of receiving asylum has been a longstanding issue in Britain, with an average of 355 alleged child migrants being exposed as adults between 2012 and 2020, even before mandatory age tests. Campaigners have long been calling for tests — many European nations have used them for years to detect fraud, as child migrants understandably receive preferential treatment — but the idea has been repeatedly rejected as somehow inhumane.
To take advantage of the system as it stands, it is common practice for boat migrants to ditch their identity documents before entering Britain. This frustrates attempts to deport them back to their home countries, and therefore border officials have so far mostly had to go on the word of the migrants themselves as to how old they are.
Under the new legislation, unaccompanied child migrants will still be prohibited from being deported from the UK, however, the Home Secretary will be empowered to remove them once they reach their 18th birthday.
The move to introduce age checks comes as a former ISIS fighter who crossed the English Channel illegally was revealed to have falsely attempted to portray himself as a 17-year-old boy, while he was in reality 42.
The Iraqi national, known only as 'AJ', is believed to have been the oldest known illegal migrant to cast himself as a minor and despite showing clear signs of being a middle-aged man, had been placed in a child migrant facility for about a week before his lies were exposed, the Mail on Sunday reported.
At present, the ex-ISIS combatant is being housed in a three-star hotel among other migrants while he appeals the order to deport him, all at taxpayer expense.
Border Farce: Over 50 Migrants over 30 Years Old Registered as 'Children'https://t.co/j5oA9XR8JZ

— Breitbart London (@BreitbartLondon) August 19, 2022
The MoS reported that he had first come on the radar of American and British forces in Iraq in 2006 when he was registered as a terrorist, for which he had his fingerprints logged in international databases.
Commenting on the revelations, a security source told the paper: "This is one of the most extraordinary cases we've ever encountered. It's common for adult migrants to claim they are children, but we think this is the oldest person to make that claim.
"The brazenness of his claims was mind-blowing. He initially said he had fled to Britain alone after his farmer parents abandoned him, but his story had holes in it."
The source went on to reveal that there were clear signs of the Iraqi illegal being an adult, such as his tattoos being so old that they had begun to fade. The militant migrant also sported a full-grown beard and is said to have had clear wrinkles around his eyes and forehead.
"When we checked him on the Eurodac system, his true identity popped up, and his name was red-listed, meaning he is considered a potential threat to national security. He is known to have been part of ISIS in Iraq and took part in terrorism campaigns. We are now trying our hardest to get him out of the country," the source added.
A Home Office source said: "This is another egregious example of why we must stop the boats – we need to secure our borders, crack down on this problem and detain and swiftly remove those who come here illegally."
Number of Fake 'Child' Migrants in Britain More Than Triples in a Year https://t.co/KEmgzVV2At

— Breitbart London (@BreitbartLondon) December 30, 2021
Follow Kurt Zindulka on Twitter here @KurtZindulka
https://www.breitbart.com/europe/2023/04/24/uk-to-introduce-age-checks-for-child-migrants-as-42-year-old-bearded-isis-fighter-claimed-to-be-17/