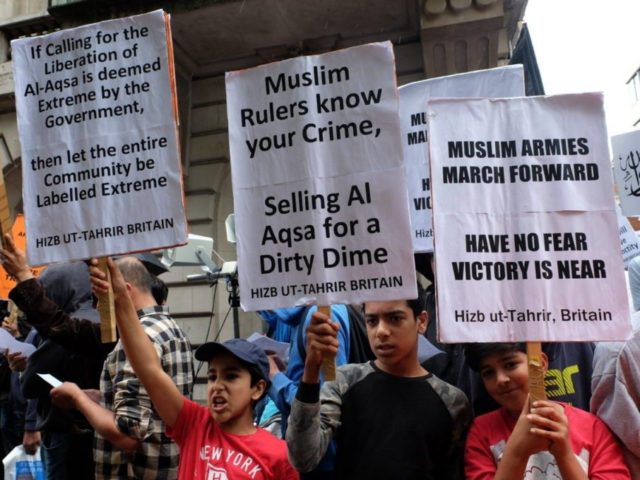 Britain's new anti-extremism chief has expressed concern that Hizb ut-Tahrir, an Islamist group which seeks to establish a caliphate with Sharia law, could be "radicalising children" after an investigation found them using children to peddle extremist literature.
Banned in more than a dozen countries including Pakistan, Russia, China, Turkey, and Egypt, Hizb ut-Tahrir publicly disavows violence, but individuals linked with the group have carried out violent acts,  such as Islamic State fighter 'Jihadi John', who reportedly attended the outfit's events while at university.
Hizb ut-Tahrir has complained that British authorities have effectively "criminalised" certain "key concepts of Islam", while Abdul Wahid, a leading figure in Britain, has called for a boycott of Britain's counter-terror programme Prevent.
Despite their insistence they only allow over-16s to "engage" in their work, an undercover journalist who attended a number of the group's events in the past five months saw children as young as ten praying and reading from the Qu'ran at meetings.
According to the Daily Mail, their reporter was sold books "extremist" booklets which allegedly provided justification for suicide bombings and warned that women who leave the house 'uncovered' would be punished, at meetings in parts of England with large Muslim populations, such as east London and Rochdale.
Birmingham Muslims Claim Grooming Doesn't Happen in Pakistan, Say British Society 'Encourages' Abusers
https://t.co/kqZeV4Llwb

— Breitbart London (@BreitbartLondon) November 10, 2017
The events were held as part of a "roadshow" over the summer, after Hizb ut-Tahrir recently relocated its UK headquarters to Sparkhill, Birmingham — the neighbourhood which has been home to more convicted terrorists than anywhere else in Britain — where it has launched a recruitment drive for inner-city youths, according to The Times.
At a meeting in Birmingham, the Mail reported a child of 13 was selling booklets which urged Muslims to shun Western culture and its "filthy promiscuity", alleging sex with animals was on the rise.
The chief of the Government's newly created Commission for Countering Extremism, Sara Khan, expressed concern over the report, telling the newspaper: "Hizb ut-Tahrir are Islamist extremists who have been actively recruiting young people and spreading their supremacist ideology for decades.
"Non-violent extremism threatens the rights of others. I am undertaking a wide-ranging study into all forms of extremism to help us all do more to counter extremism," she said.
After a Times report revealed Hizb ut-Tahrir has recently urged Muslims to "call for the complete liberation of the Blessed Land (Palestine) and the removal of the Jewish entity", Lord Carlile of Berriew said the group appears to have "re-weaponised" itself after their move to Sparkhill, warning phrases it used such as "Zionist stench" crossed the line into hate speech.
He added: "I've always regarded them as potentially a menacing organisation, particularly the capacity to radicalise people and the determination to be patient and wait until the time is right to do the type of things they are doing on the streets of Birmingham."
Follow Breitbart London on Facebook:

 Breitbart London
http://feedproxy.google.com/~r/breitbart/~3/kKAtE7SJKrQ/