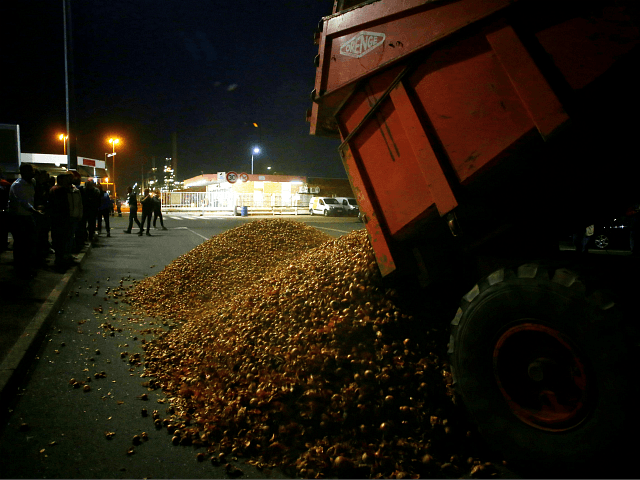 British authorities were forced to destroy over 100,000 pounds of onions which were "contaminated" by illegal migrants discovered hiding in delivery lorries.
Border Force officials discovered more than twenty illegal migrants who identified themselves as being from Afghanistan, Albania, Iran, and Iraq — all Muslim-majority countries — in two separate incidents in the Port of Poole, the Dorset Echo reports.
"In June 2017 and January 2018, a total of 47,000 kilograms of onions were surrendered at the Port of Poole following the discovery of clandestine migrants in two vehicles that were being used to transport the goods," explained Peter Haikin, the Borough of Poole's Regulatory Services Manager.
"As a result of the discoveries, all of the produce was disposed of to ensure that no contaminated goods would end up in any restaurants or supermarkets."
He added: "Borough of Poole continues to work closely with authorities to ensure that produce being provided to restaurants, supermarkets and distributors is safe for consumption."
The high street value of the destroyed onions was estimated at over £35,000.
Leave.EU Campaign Sneaks 'Migrants' Into UK To Highlight Porous Borders https://t.co/YhdDIFSwBs pic.twitter.com/5XW0Fm5s3h

— Breitbart London (@BreitbartLondon) June 22, 2016
The fate of the illegal migrants is not entirely clear.
A Home Office spokesman told the Dorset Echo that they has been "dealt with by the Home Office in line with the immigration rules" and that "Where someone has no right to remain in the UK, action is taken to remove them".
However, EU rules which require member-states to deport illegal migrants to the very first EU country they entered, rather than the last one they come from — usually France, in Britain's case — mean that very few are removed, so long as there is no record of their point of entry and they will not reveal it.
In 2014, for example, only 49 out of several thousand illegal arrivals from France could be sent back across the English Channel.
Follow Jack Montgomery on Twitter:

 @JackBMontgomery
Follow Breitbart London on Facebook:

 Breitbart London
http://feedproxy.google.com/~r/breitbart/~3/J0RcR0-9K1s/