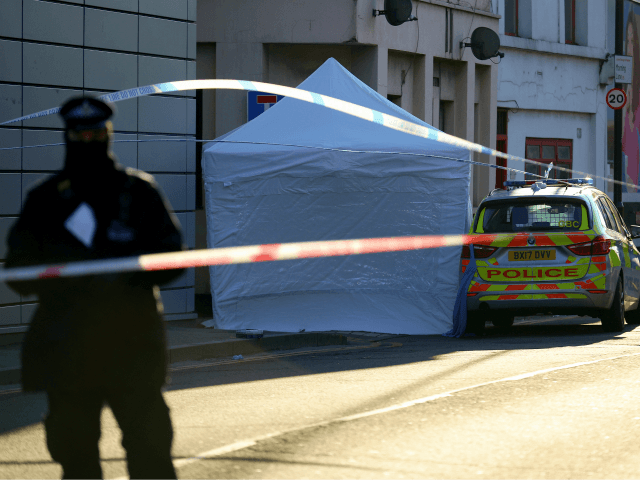 Homicides in England and Wales are at their highest rate for decade, as official statistics reveal a rise in fatal stabbings, with largest increases in the numbers of young, male, and black victims.
The Office of National Statistics (ONS) data from the Home Office Homicide Index released Thursday revealed that there were 695 homicides in the year to March 2018, 15 per cent higher that in the preceding period.
Adding in fatalities from terror attacks in London and Manchester, that figure rises to 726, with the total homicides at their highest since the year ending March 2008, where 729 people were killed.
The most common method of murder was as a result of knives or other sharp implements, where there was an increase of 73 fatal stabbings on the year before to 285 — a rise of 34 per cent — and representing the highest number since the Homicide Index began in 1946.
UK Police Force Doubles Down on 'Non-Crime Hate Incidents' After Social Media Backlash https://t.co/bUIl7FAiNY

— Breitbart London (@BreitbartLondon) September 12, 2018
In terms of gender distribution, the report authors note that "The rise in homicide seen in recent years has been most pronounced in male victims and those in younger age groups.
"There were 12 offences of homicide per million population, and the homicide rate for males (17 per million population) was just over double that for females (8 per million population)."
Overall, 69 per cent of homicide victims were male, with younger people more likely to be victims. Of the 726 killed in the year ending to March, 152 victims (21 per cent) were aged 16 to 24.
Homicide victims aged 16 to 24 increased by nearly a half (45 per cent, 105 to 152), with researchers nothing that the number of deaths in the age group has been relatively flat, this increase seen mainly amongst male victims and, "in part, reflects the increase in serious violence in London and other cities where young adults have been disproportionately affected."
In terms of race, two-thirds of stabbing victims were white and one quarter black — the highest proportion of black victims since data on ethnicity was first recorded in 1997 and disproportionate to the total population of black people in England and Wales (3.3 per cent, according to the last census). The sharpest rise amongst black victims was of youths aged 16 to 24 — a 78 per cent increase from 23 to 41.
Of the 70 black people stabbed to death, 55 of the homicides were recorded by London's Metropolitan Police.
London's Khan Demands Gang Database Overhauled as 4 in 5 Named Are Black https://t.co/9C85rAerbc

— Breitbart London (@BreitbartLondon) December 24, 2018
These statistics were released in the week that London saw its 10th fatal stabbing of 2019, with four other victims injured in stabbings since Sunday.
On Wednesday, a teen male was stabbed on a bus in broad daylight in Hackney, south London, and was taken to hospital with non-fatal injuries.  In the early hours of Tuesday, a teen was stabbed repeatedly in the head after being run over by a 4×4 in Camden, north London, and has been left with what were described as life-changing injuries.
Also on Tuesday, 19-year-old black youth Lejean Richards was stabbed to death in the evening near the primary school attended by Prince George, the son of the Duke and Duchess of Cambridge, in Battersea, central London.
And on Sunday, two teens suffered non-fatal injuries in separate stabbings in Feltham, west London, police believing the attacks are connected.
Since Labour's Sadiq Khan became mayor of London, the capital has seen its highest level of knife crime.
While Mayor Khan has been largely resistant to active policing and against stopping and searching suspects for weapons, over concerns of racial profiling, the left-liberal politician has opted for a "public health" approach to stopping the crime wave — Khan later admitting it could take a decade to bring down knife crime.
http://feedproxy.google.com/~r/breitbart/~3/TRHHpH7TO4M/