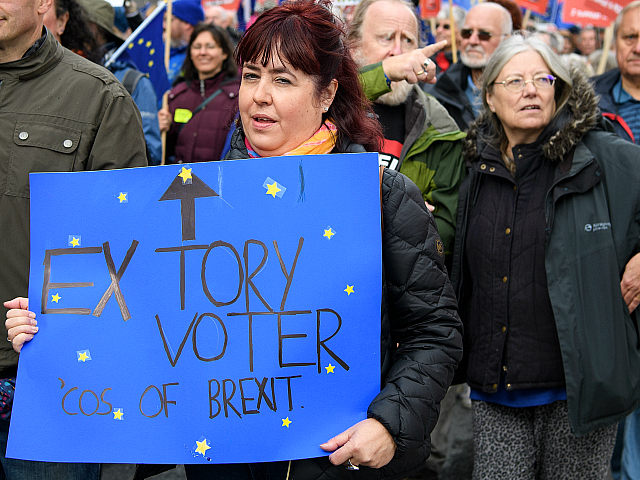 British civil servants are "war-gaming" another EU referendum as anti-Brexit campaigners begin "the most co-ordinated lobbying effort ever".
Bureaucrats at the Department for Exiting the European Union (DExEU) have reportedly begun rehearsals for another vote, with officials role-playing the possible reactions of Prime Minister Theresa May and leading Brexiteers such as Boris Johnson and Jacob Rees-Mogg.
"Civil servants have to prepare for every eventuality and with the Prime Minister's ability to command the support of Parliament looking shakier by the day, it is their job to make contingency plans for every possibility, however remote, including a second referendum," a Whitehall source told The Times.
Her Majesty's Civil Service is a standing bureaucracy which is supposed to serve the government of the day impartially, but it is widely regarded as being institutionally europhile — with every living former Cabinet Secretary having denounced Brexit, and one of them going so far as to tell the House of Lords that the idea of the leaving the European Union "strikes a dagger to my soul".
Groups Promoting Anti-Brexit 'People's March' Funded by the EU https://t.co/KPIGSejVs6

— Breitbart London (@BreitbartLondon) October 21, 2018
The deep state is beginning its so-called "contingency" planning as anti-Brexiteers part-funded by foreign billionaire and open borders campaigner George Soros, 88, commence what they have vowed will be "the most co-ordinated lobbying effort ever conducted on a piece of legislation".
The focus of the so-called People's Vote campaign to thwart the people's actual vote to Leave the European Union, along with allied organisations including Best for Britain and the EU-funded European Movement, is set to shift from organising marches to directly pressuring MPs to block whatever Brexit legislation Theresa May puts before Parliament.
EU loyalists will focus their attention on a group of up to 50 Tory MPs, including five government ministers, they have identified as "reachable", with The Times reporting that some parliamentarians are "already in direct talks with the People's Vote about backing a second referendum and money has been made available, sometimes at the request of individual MPs, for constituency polling" on the issue.
A majority of MPs backed Remain during the referendum, an MPs and Lords voted Nick Clegg's How to Stop Brexit as book of the year in a secret ballot in 2017. Many believe that a large number of them have never reconciled themselves to the public's vote to Leave the European Union since it happened.
Follow Jack Montgomery on Twitter:

 @JackBMontgomery
Follow Breitbart London on Facebook:

 Breitbart London
http://feedproxy.google.com/~r/breitbart/~3/ibD8msoxfEg/