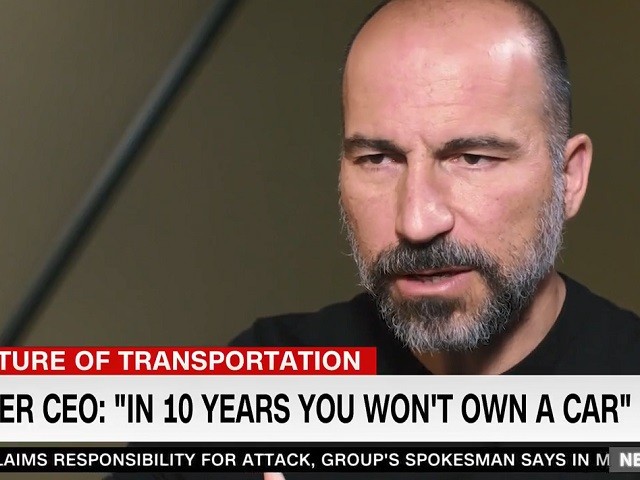 During a segment that aired on "CNN Newsroom" on Tuesday, Uber CEO Dara Khosrowshahi said in a decade that he envisioned a scenario where people will not own a car.
Khosrowshahi was asked about what that world would look like in ten years in an interview with CNN Business senior technology correspondent Laurie Segall.
"Hopefully, you won't own a car," Khosrowshahi repled. "You will essentially come to us, and we'll give you the choice whether you want to take regular Uber or you want to pool with someone. But we're also going to show you this is a bus stop that the bus is going to be coming in six minutes from now — that you can take the bus today or the electric bike or scooter today as well. We want to give you every single choice."
When asked about the possibility of humans becoming irrelevant, Khosrowshahi predicted it wouldn't be a society completely lacking the human element given difficulties of navigating some circumstances.
"I understand the fear," he said. "My experience every single time is that machines and humans are the things that's superior. Self-driving technology for a long time is not going to work in every single use case, you know. If there's an airport dropoff and pickup — good luck for a machine to figure out exactly how to get there. The promise of autonomous is that it's going to bring the cost per mile of transportation on Uber which right now is about double the cost of car ownership per mile, to essentially the cost of car ownership. When autonomous brings that cost down, we believe that we can replace car ownership itself. So, this is not a company whose goal is to double in size. This is a company who think we can grow, you know, 20 times bigger, 40 times bigger."
Follow Jeff Poor on Twitter @jeff_poor
http://feedproxy.google.com/~r/breitbart/~3/R7coaHIw92Y/