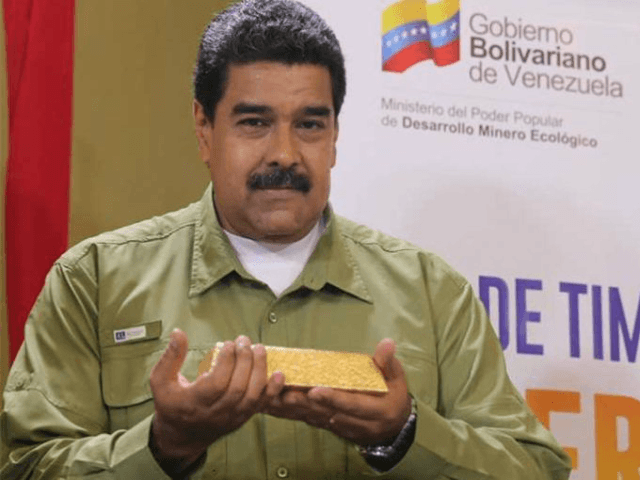 The United States announced fresh sanctions against Venezuela's state-run gold mining company Minerven on Wednesday, accusing them of propping up the country's socialist regime and engaging in illegal financial activities.
Under the new sanctions, the General Mining Company of Venezuela (Minerven) and its president, Adrian Antonio Perdomo Mata, will have all their U.S. assets seized by the Treasury Department, while all Americans will be barred from dealing with them in any financial capacity.
"The illegitimate Maduro regime is pillaging the wealth of Venezuela while imperiling indigenous people by encroaching on protected areas and causing deforestation and habitat loss," Treasury Secretary Steven Mnuchin said in a statement announcing the sanctions.
"Treasury is targeting gold processor Minerven and its president for propping up the inner circle of the corrupt Maduro regime," he continued. "We will aggressively pursue those involved with Maduro's reckless illicit gold trade which is contributing to this financial, humanitarian, and environmental crisis."
The move is now the sixth round of sanctions imposed by the U.S. against the Maduro regime since January, as Washington seeks to end the country's political, economic, and humanitarian crisis by removing them from power and instigating a democratic transition in the country led by opposition leader Juan Guaidó.
According to officials, these sanctions are particularly aimed at China, Turkey, and Russia, all of whom import Venezuelan gold at cut-down prices, as well as Maduro loyalists in the military who have stolen portions of the profits.
"The regime has apportioned responsibility for oversight of gold extraction to select military officers who take their cut," Marshall Billingslea, assistant secretary for terrorist financing at Treasury, told Bloomberg. "As oil production has plummeted, they have turned to gold trade as a final frontier for their kleptocratic activities. The money Maduro has generated is used to purchase loyalty. Outside of buying loyalty, he certainly doesn't command respect."
Following a meeting with Brazilian President Jair Bolsonaro on Wednesday, Trump warned that he is planning to impose sanctions that are a "lot tougher" in the coming weeks.
"We haven't done the toughest sanctions. We've done, I would say, right down the middle, but we can go a lot tougher if we need to do that," he said at a joint press conference. "What is happening there is a disgrace. This was one of the wealthiest countries in the world and all of a sudden, it is grief-stricken, poverty-stricken — no food, no water, no air-conditioning, no anything," Trump said.
Follow Ben Kew on Facebook, Twitter at @ben_kew, or email him at bkew@breitbart.com.
http://feedproxy.google.com/~r/breitbart/~3/U0qBou-tQFU/