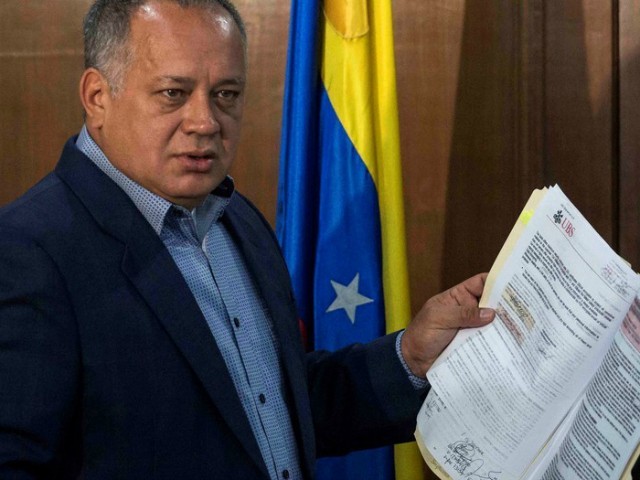 The U.S. Treasury Department on Tuesday announced sanctions against four current and former Venezuelan government officials, plus several other individuals and entities connected with Rafael Alfredo Sarria Diaz, a businessman accused of operating as the front man for Socialist Party official Diosdado Cabello.
Cabello, along with Venezuelan President Nicolás Maduro, has been accused of running one of the largest cocaine trafficking operations in the Western Hemisphere, the Cartel de los Soles. The U.S. Treasury Department sanctioned Cabello and his associates in May for exploiting his office to "engage in narcotics trafficking, money laundering, embezzlement of state funds, and other corrupt activities."
The sanctions announced on Tuesday target key individuals and business entities linked to Cabello through Diaz. The entities include Quiana Trading LImited, AVERUCA C.A., and Panazeate SL.
Treasury officials said they have identified properties in the United States owned by Diaz and his corporate network that will be locked down, including his Gulfstream 200 private jet.
The Treasury Department also sanctioned First Lady and Former Attorney General Cilia Adela Flores de Maduro, Executive Vice President Delcy Eloina Rodriguez Gomez, Minister of Communication and Information Jorge Jesus Rodriguez Gomez, and Minister of Defense Vladimir Padrino Lopez.
"Today's action shows that the United States will continue to take concrete and forceful action against those who are involved in the destruction of democracy in Venezuela as well as those who are enriching themselves at the expense of the Venezuelan people," the Treasury Department said on Tuesday.
"The United States will continue to use the full weight of American economic and diplomatic power to help create the conditions for the restoration of democracy for the Venezuelan people," the Treasury statement added.
Treasury Secretary Steven Mnuchin anticipated the sanctions against Maduro's wife would get the corrupt Venezuelan strongman's attention. Maduro himself has been under sanctions since July 2017.
"President Maduro relies on his inner circle to maintain his grip on power, as his regime systematically plunders what remains of Venezuela's wealth. We are continuing to designate loyalists who enable Maduro to solidify his hold on the military and the government while the Venezuelan people suffer," Mnuchin said.
"Treasury will continue to impose a financial toll on those responsible for Venezuela's tragic decline, and the networks and front-men they use to mask their illicit wealth," he vowed.
http://feedproxy.google.com/~r/breitbart/~3/g3Fp5nUWfwg/