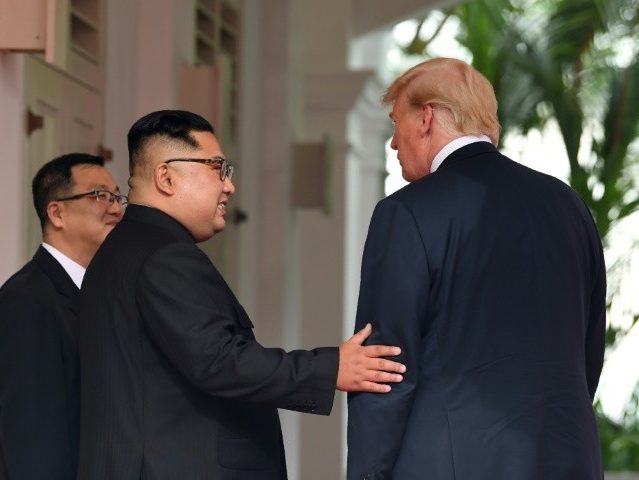 As the third summit meeting between North Korean dictator Kim Jong-un and South Korean president Moon Jae-in drew to a close Thursday, officials from the Trump administration signaled the United States is ready to resume discussions about eliminating North Korea's nuclear program.
As Reuters tells it, the U.S. is eager to follow up on vague but encouraging comments Kim made during his meetings with Moon and prod the North Koreans to take a few concrete, verifiable steps in the right direction:
U.S. Secretary of State Mike Pompeo said he had invited North Korea's foreign minister to meet in New York next week, with the aim of completing its denuclearization by January 2021, after a Pyongyang summit between the leaders of the two Koreas.

The United States appeared eager to seize on commitments by North Korean leader Kim Jong Un at his talks with South Korean President Moon Jae-in even as critics said the steps did little to put Pyongyang on a course for irreversible denuclearization.

North Korea will allow experts from "concerned countries" to watch the closure of its missile engine testing site and launch pad at Tongchang-ri, Moon said at a joint news conference with Kim after their meeting in the North Korean capital.

North Korea will also take additional steps such as closing its main Yongbyon nuclear complex if the United States undertook unspecified reciprocal measures, Moon added.
Pompeo is reportedly hoping for a meeting with his opposite number, North Korean Foreign Minister Ri Yong-ho, at the U.N. General Assembly next week. He also wants North Korea to meet with U.S. special representative Stephen Biegun in Vienna.
The concerns from U.S. officials are easily understood: North Korea has not done anything irreversible to denuclearize yet, it has a proven track record of reneging on vague promises, and its immediate objective is to woo South Korea into easing the tough international sanctions lined up against it. The slightest compromise on the Trump administration's demand for complete, verifiable, and irreversible denuclearization before sanctions are lifted could easily bring the whole sanctions regime tumbling down.
A few of the offers Kim made to Moon are actually things he or his father promised to do a long time ago. His reluctance to provide a detailed inventory of North Korea's nuclear arsenal and production facilities makes it difficult to judge the true significance of any step he takes.
A major immediate concern for U.S. policymakers is Moon's promise to launch or restart several major joint projects between Noth and South Korea. These projects would violate sanctions against North Korea unless Moon seeks exemptions from the U.N. Security Council.
Attorney Joshua Stanton, who helped draft sanctions legislation for North Korea, told Voice of America News on Wednesday that if Seoul unilaterally defies the sanctions it would be "an extinction-level event for the U.S.-South Korean alliance" and an "absolutely incomprehensible betrayal by a nation that calls itself our ally."
South Korean companies have already been accused of violating sanctions by importing coal from North Korea. One of President Moon's publicity events in Pyongyang this week involved a controversial visit to an art studio blacklisted by the U.N. Security Council. Even South Korean construction work on diplomatic facilities along the DMZ runs the risk of violating sanctions by sending money, material, and skilled labor into North Korean territory.
"President Moon apparently hopes that President Trump will simply agree with doing what North Korea wants. I think President Moon is taking a serious risk," Bruce Bennett of the RAND Corporation told Reuters on Wednesday.
Moon on Thursday urged the United States to sign a formal peace treaty to end the Korean War, which has technically remained in progress since the 1953 armistice, describing it as a step Kim wishes to take before the end of 2018. The peace treaty is now much desired by North Korea because it would make sanctions more difficult to maintain and potentially give Kim grounds to demand the removal of U.S. troops from South Korea.
While President Trump declared the outcome of the Moon-Kim summit "very exciting" on Wednesday, Pompeo laid down a tough deadline for achieving "major disarmament" by the time Trump's first term ends in January 2021. The secretary of state stressed the United States is ready to "engage immediately in negotiations" toward this end.
According to South Korea's President Moon, Kim Jong-un wants Pompeo to visit Pyongyang as soon as possible and hopes for a second summit meeting with President Trump.
http://feedproxy.google.com/~r/breitbart/~3/Tr08FFkzaNk/