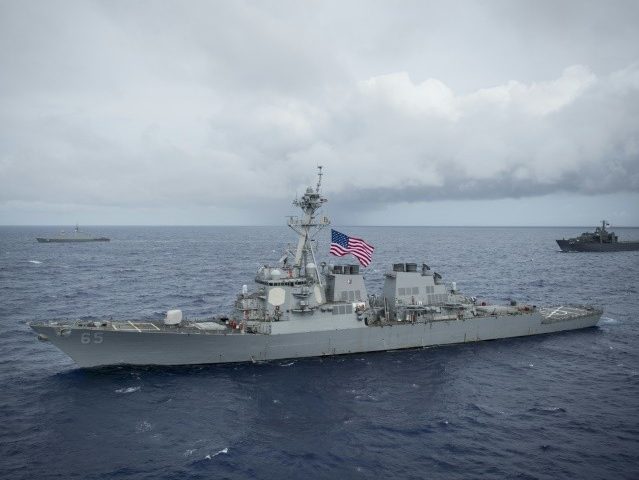 The U.S. Navy confirmed Monday that it sent two warships through the Taiwan Strait earlier in the day, in a move that is likely to irk China.
"USS Curtis Wilbur (DDG 54) and USS Antietam (CG 54) conducted a routine Taiwan Strait Transit on Oct. 22, in accordance with international law. The ships' transit through the Taiwan Strait demonstrates the U.S. commitment to a free and open Indo-Pacific," said Navy Cmdr. Nate Christensen, U.S. Pacific Fleet deputy spokesman.
"The U.S. Navy will continue to fly, sail and operate anywhere international law allows," he said.
The Taiwanese issued a statement on Monday, announcing that the transit took place. "The relevant details were explained by the U.S. government," the statement said, according to a Google translation of the statement.
It is the second time this year that the U.S. Navy has conducted such a transit; the first occurred in June.
China has become increasingly aggressive in the Taiwan Strait towards Taiwan, which China considers a renegade province and not a separate country. The U.S. acknowledges China's stance but provides Taiwan with defense equipment and opposes reunification by force. China considers Taiwan its most sensitive issue with the U.S.
Beijing has stepped up the frequency and scale of military drills around Taiwan since 2016, when the Democratic Progressive Party (DPP), a pro-independence party, won the election in Taiwan. The U.S. Navy has conducted such transits through the Taiwan Strait for years but have not publicized the transits since 2007. This year is the first time since then that both the U.S. and Taiwan have done so.
A defense official told Breitbart News this year that the previous administration had placed a "stranglehold" on discussing such transits. However, the Trump administration has taken an assertive posture against China than the Obama administration.
The Defense Department declined to say the move was a signal to China, but rather that it demonstrated a U.S. commitment to a "free and open" Indo-Pacific.
"The DOD will continue to fly, sail, and operate wherever international law permits," said Pentagon spokesman Army Col. Rob Manning.
http://feedproxy.google.com/~r/breitbart/~3/S9C8YY3U9is/