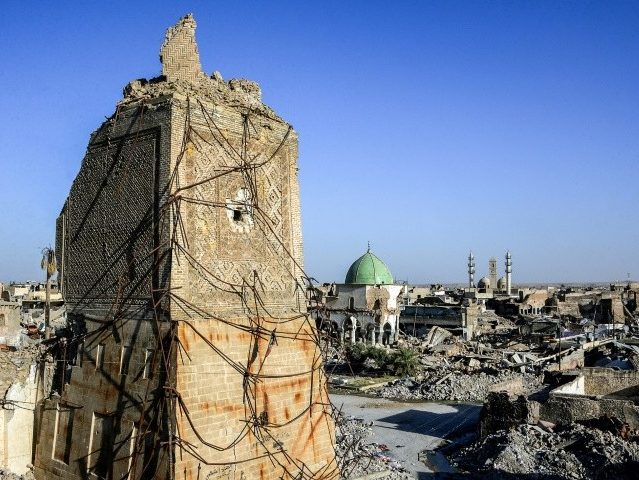 Iraq needs up to $100 billion to rebuild the city of Mosul alone following the devastation at the hands of the Islamic State (ISIS/ISIL), a spokesman for the U.S.-led coalition against the jihadi group told reporters on Tuesday.
U.S. Army Col. Sean Ryan, a spokesman for the U.S.-led coalition officially known as the Combined Joint Task Force-Operation Inherent Resolve (CJTF-OIR), told Pentagon reporters on Tuesday:
The cost of reconstruction is dauntingly high for our partners, who must allocate very limited resources to address very serious concerns. The reconstruction efforts in Mosul alone, for example, can cost as much as $100 billion. We call on all nations to help those who have sacrificed tremendously fighting this global threat.
Col. Ryan's reconstruction estimate is consistent with figures provided by the Associated Press (AP) and World Economic Forum (WEF)
According to the WEF, it will cost at least $100 billion to rebuild Iraq and another $200 billion for similar efforts in Syria.
Mosul, the second-largest city in Iraq, was the biggest city held by ISIS.
In July 2017, U.S.-backed Iraqi forces and other local fighters captured Mosul, ISIS's de-facto capital in Iraq, a move that ultimately fueled the collapse of the group's cross-border "caliphate."
Although Baghdad declared victory over ISIS in December 2017, "remaining pockets" of the group still pose a threat.
Col. Ryan noted:
The ISF [Iraqi Security Force] continues to fight and secure the hard-fought gains that they have made in the past year to secure the nation against remaining pockets of ISIS, who continue to threaten their peace and security. The various security elements, to include the ISF, the [Kurdish] Peshmerga, counterterrorism services and the federal police, are all working together to continue securing their country.
After ruling over 40 percent of Iraq and more than a third of Syria, ISIS is now desperately holding onto its last sliver of territory.
"ISIS is trying hard to preserve their remaining space, by using tactics like burning tires, using innocent civilians as human shields, and dressing up like women," Ryan declared.
Col. Ryan noted that a military effort alone would not bring stability to Iraq and Syria, stressing that region needs to be rebuilt to prevent another conflict or the reemergence of jihadists.
He told reporters:
In both Iraq and Syria, the success of our partner forces is creating stability in areas that have not seen peace since the arrival of ISIS more than five years ago. Lives are being rebuilt again because the ISF and the SDF [Syrian Democratic Forces] are providing the necessary security for residents to go back home, rebuild their lives and again hope for their future.

However, the truth is military stabilization efforts are not enough. Security creates the space for rebuilding. Residents only gain hope for the future when their children can go to school free from harm, women go buy basic necessities in local shops, and when they can go to their jobs that allow them to support their families.
The spokesman called on the international community to help Iraq and Syria in rebuilding the territory devastated by the anti-ISIS war.
http://feedproxy.google.com/~r/breitbart/~3/ILQp7UzBNMU/