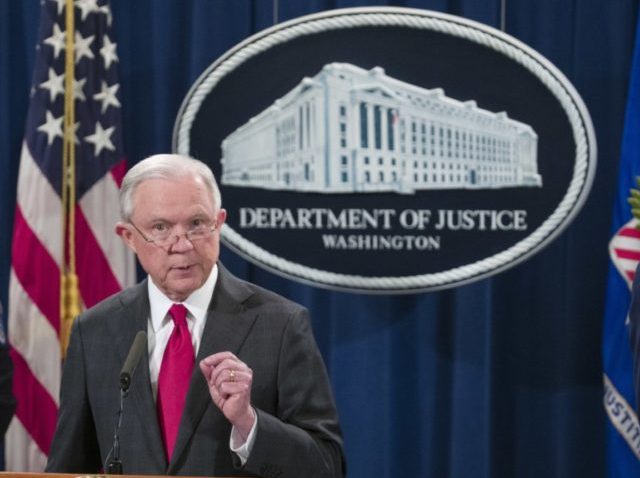 The United States charged a state-owned Chinese company, a Taiwanese company, and three individuals with stealing trade secrets from a U.S. semiconductor company, the Justice Department announced Thursday.
"I am announcing that a grand jury in San Francisco has returned a multi-defendant indictment alleging economic espionage on the part of a state-owned Chinese company, a Taiwanese company, and three Taiwan individuals for an alleged scheme to steal trade secrets from Micron, an Idaho-based semi-conductor company," said Attorney General Jeff Sessions.  "Micron is worth an estimated $100 billion and has a 20 to 25 percent share of the dynamic random access memory industry—a technology not possessed by the Chinese until very recently.  As this and other recent cases have shown, Chinese economic espionage against the United States has been increasing—and it has been increasing rapidly."
One of the companies indicted is Fujian Jinhua Integrated Circuit Co, a state-owned firm that is central to Beijing's "Made in China 2025" scheme to dominate new high-technology industries. This week the Commerce Department said it had put Fujian Jinhua Integrated Circuit on a list of entities that cannot buy components, software, and technology goods from U.S. firms.
The Department of Justice described the scheme:
According to the indictment, the defendants were engaged in a conspiracy to steal the trade secrets of Micron Technology, Inc. (Micron), a leader in the global semiconductor industry specializing in the advanced research, development, and manufacturing of memory products, including dynamic random-access memory (DRAM).  DRAM is a leading-edge memory storage device used in computer electronics.  Micron is the only United States-based company that manufactures DRAM.  According to the indictment, Micron maintains a significant competitive advantage in this field due in large part from its intellectual property, including its trade secrets that include detailed, confidential information pertaining to the design, development, and manufacturing of advanced DRAM products.

Prior to the events described in the indictment, the PRC did not possess DRAM technology, and the Central Government and State Council of the PRC publicly identified the development of DRAM and other microelectronics technology as a national economic priority.  The criminal defendants are United Microelectronics Corporation ("UMC"), a Taiwan semiconductor foundry; Fujian Jinhua Integrated Circuit, Co., Ltd. ("Jinhua'"), a state-owned enterprise of the PRC; and three Taiwan nationals: Chen Zhengkun, a.k.a. Stephen Chen, age 55; He Jianting, a.k.a. J.T. Ho, age 42; and Wang Yungming, a.k.a. Kenny Wang, age 44.   UMC is a publicly listed semiconductor foundry company traded on the New York Stock Exchange; is headquartered in Taiwan; and has offices worldwide, including in Sunnyvale, California.  UMC mass produces integrated-circuit logic products based on designs and technology developed and provided by its customers.  Jinhua is a state-owned enterprise of the PRC, funded entirely by the Chinese government, and established in February 2016 for the sole purpose of designing, developing, and manufacturing DRAM.

According to the indictment, Chen was a General Manager and Chairman of an electronics corporation that Micron acquired in 2013.  Chen then became the president of a Micron subsidiary in Taiwan, Micron Memory Taiwan ("MMT"), responsible for manufacturing at least one of Micron's DRAM chips.  Chen resigned from MMT in July 2015 and began working at UMC almost immediately.  While at UMC, Chen arranged a cooperation agreement between UMC and Fujian Jinhua whereby, with funding from Fujian Jinhua, UMC would transfer DRAM technology to Fujian Jinhua to mass-produce.  The technology would be jointly shared by both UMC and Fujian Jinhua.  Chen later became the President of Jinhua and was put in charge of its DRAM production facility.

While at UMC, Chen recruited numerous MMT employees, including Ho and Wang, to join him at UMC.  Prior to leaving MMT, Ho and Wang both stole and brought to UMC several Micron trade secrets related to the design and manufacture of DRAM.  Wang downloaded over 900 Micron confidential and proprietary files before he left MMT and stored them on USB external hard drives or in personal cloud storage, from where he could access the technology while working at UMC.
Separately, Sessions announced a new Department of Justice initiative to combat Chinese economic espionage.
"We are here today to say: enough is enough.  We're not going to take it anymore," Sessions said. "This Department of Justice—and the Trump administration—have already made our decision: we will not allow our sovereignty to be disrespected, our intellectual property to be stolen, or our people to be robbed of their hard-earned prosperity.  We want fair trade and good relationships based on honest dealing.  We will enforce our laws—and we will protect America's national interests."
http://feedproxy.google.com/~r/breitbart/~3/CUwTBsviUAg/