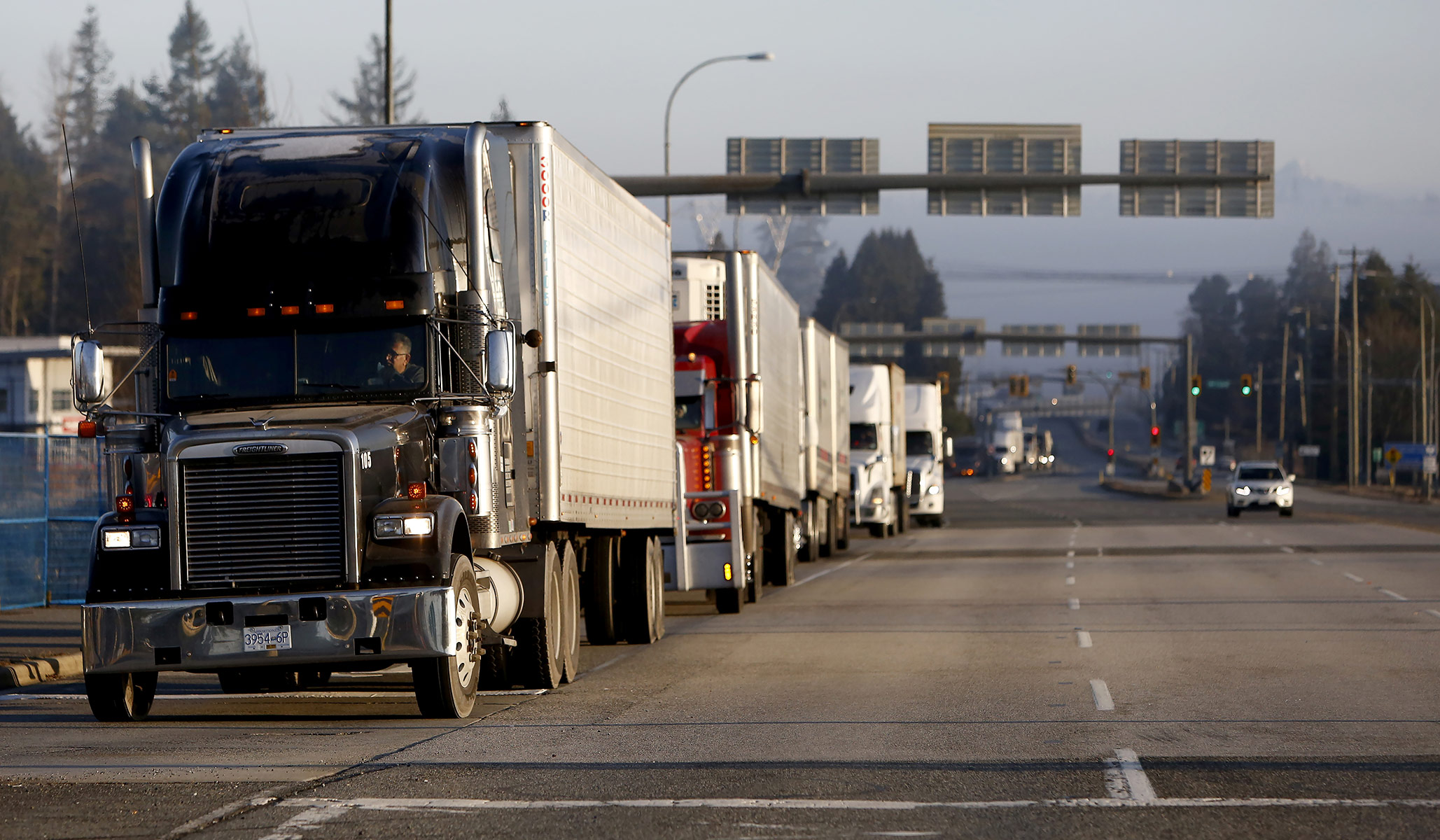 The Supreme Court struck down the OSHA vaccine mandate for large employers, but the situation for trucking between the U.S. and Canada is separate from that mandate.
First, solo truck drivers were not going to be affected by the OSHA mandate even if it had been upheld by the Supreme Court. OSHA guidance from before the ruling said that:
even where the [mandate] applies to a particular employer, its requirements do not apply to employees "who do not report to a workplace where other individuals such as coworkers or customers are present' or employees 'who work exclusively outdoors."

Therefore, the requirements of the [mandate] do not apply to truck drivers who do not occupy vehicles with other individuals as part of their work duties.
The American Trucking Associations were nonetheless pleased when the Supreme Court struck down the mandate. It would have still applied to team drivers and would have created headaches for deliveries regardless.
But back to the problem at the U.S.-Canada border. As I wrote in November, cross-border trucking with our northern neighbors accounts for hundreds of billions of dollars worth of goods every year, and businesses on both sides of the border have been alarmed by the coming mandates.
Canada gets to make policy, too, and its vaccine mandate for truckers begins tomorrow. There was some confusion as to whether unvaccinated Canadian truckers would be exempt, but Canadian officials clarified yesterday that they will not be. As of tomorrow, here's what Canada's policy will be, according to the Wall Street Journal:
Canada will ban U.S. and other foreign truckers from entering the country unless they are fully vaccinated. Canada will require unvaccinated Canadian drivers to show a negative, molecular Covid-19 test taken 72 hours prior to reaching the border before they are allowed entry. Those drivers will also have to quarantine for a 14-day period, which industry groups say will hurt fleets that are already short-staffed.
The U.S. is scheduled to follow up with a vaccine mandate of its own for Canadian truck drivers one week from tomorrow. The Supreme Court ruling does not affect that mandate, the Journal says, since it is a border restriction.
Canadian Trucking Alliance president Stephen Laskowski told CTV News that the mandate would only exacerbate supply-chain difficulties by reducing the number of drivers. "When these individuals leave the marketplace, there are no backups, those trucks sit," he said. "Unlike other sectors where there we can get people to temporarily fill in or fill in period, we can't, so this will be felt immediately."
Most drivers are vaccinated, but as Canadian Manufacturers and Exporters president and CEO Dennis Darby told the Globe and Mail, "Even if it's 10 or 15 per cent of drivers, that means there's going to be some delay in the system. And what that means is companies having to either slow down production or shut down production lines."
Unlike other aspects of the supply-chain crisis, the responsibility for this situation rests squarely on the Biden administration.
First, vaccine mandates for Canadian truckers should have never been a priority to begin with. The U.S. needs all the logistics capacity it can get right now, and reducing that capacity because people chose not to get a vaccine reflects terrible cost-benefit analysis.
Second, this administration promised it would work with our allies to restore America's presence on the world stage — and it can't work something out on cross-border trucking with Canada? Canada gets to make its own rules, but the U.S. gets to talk to them about it when it affects American industry. The Biden administration should have never let the situation get to this point. The vaccination issue should have been worked out bilaterally months ago.
Instead, we have separate mandates in each country being imposed a week apart that will restrict trade between the U.S. and its strongest ally. For what benefit? Does anyone seriously believe that keeping unvaccinated Canadian truckers out of the country will have any significant impact on Covid spread at all?
As American Trucking Associations president and CEO Chris Spear pointed out in a statement responding to the Supreme Court ruling, "Trucking has been on the front lines throughout the pandemic – delivering PPE, medical supplies, food, clothing, fuel, and even the vaccines themselves." Targeting those workers with a vaccine mandate is senseless.
https://www.nationalreview.com/corner/u-s-canada-trucking-vaccine-mandates-still-apply/