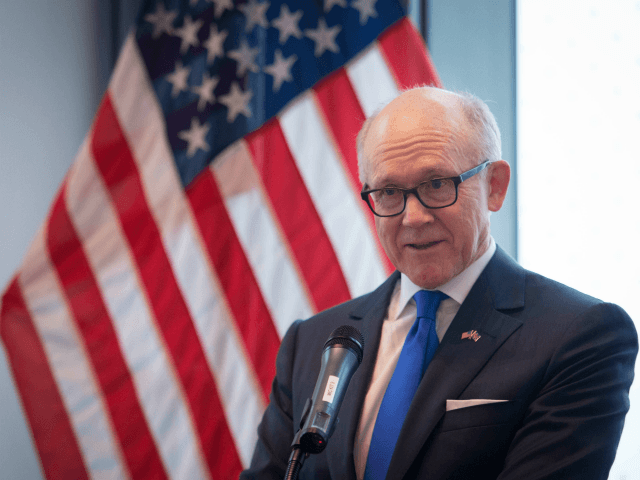 U.S. Ambassador Woody Johnson has said scare stories alleging a bilateral trade deal would endanger Britain's food standards were likely "designed" by the EU to "reduce trade" post-Brexit.
The Ambassador made the comments in defence of a piece he wrote for The Telegraph on the weekend when he condemned the "EU's 'Museum of Agriculture' approach" and said that the UK should ignore the "smear campaign from people with their own protectionist agenda."
Speaking to BBC Radio 4's John Humphrys on the Today programme, Ambassador Johnson denied that a bilateral trade deal between the UK and U.S. would result in a "lower standard" of food, and hit back at claims by former farming minister George Eustice that American food standards are "backward" and that "legislation on animal welfare is woefully deficient" — suggesting that American farmers do not care about their own animals.
"A lot of these statements have been used to create trade barriers more than anything else," Ambassador Johnson said on Wednesday.
He went on to defend American farmers, whom he likened to the British farming community, by saying, "Our farms are owned primarily by individual families, over 90 per cent, just like they are here," and added that his own mother, who was an organic farmer, "would be horrified by these accusations" against U.S. agriculture.
"American farmers care about their land, just as much as they do here, and their animals," the diplomat said, and in response to what appeared to be surprise at the assertion by Humphrys, reaffirmed his comment by saying, "Yes."
Contaminated Eggs, Killer Pork, Horse Burgers: Failures of Europe's Free Movement of Food
https://t.co/a5QLbXJZfB

— Breitbart London (@BreitbartLondon) August 8, 2017
"I would submit that a lot of these statements are designed, perhaps by the EU, to create barriers, really, to U.S. farm products. That's what I was trying to get at in that article," he said, adding that the "campaign against U.S. farm products has been very very successful, talking about chlorine and all this other stuff. But it's really designed to reduce trade and not increase trade."
In efforts to remind the establishment media outlet's listeners of the 'dangers' of American food, Humphrys asked whether, if offered a choice, the ambassador would choose a "chlorine-washed chicken or hormone injected beef" over "a nice plate of organic chicken or a bit of beef that hasn't had its bottom stuffed with hormones?" The American observed that "that's exactly the 'marketing campaign' that's been going on so far."
Saying that he would choose a piece of meat that had been "cleaned sufficiently," he pointed out that the United States has "a very active legal system" that would approach the issue of food safety rather vigorously if the country's market of 250 million consumers were dissatisfied with the quality of their meat.
Trump's Ambassador: Britain First in Line for 'Ambitious' Trade Deal… If You Manage to Leave the EU https://t.co/3qESgb5RIC

— Breitbart London (@BreitbartLondon) November 28, 2018
Ambassador Johnson, who, like U.S. President Donald J Trump, is an Anglophile, added that a good trade deal would "lift all boats" and would open the American market to Britain's foods.
"You could gain a lot," the diplomat said. "We love British products — lamb and cheddar and all the things you produce, but we really aren't exposed to it," adding that at President Trump's next visit to the UK, he will likely be eating Welsh lamb.
Asked whether, with current uncertainty over when and how the UK will leave the EU, the Anglo-American relationship would be affected, the diplomat said that while Brexit was a "watershed moment," the U.S. and "our special relationship will continue and prosper no matter what."
"In any situation, I know that our two countries have to be together in this free world. There's a lot of danger out there so our relationship is more important now than ever, whatever happens with Brexit," he added.
http://feedproxy.google.com/~r/breitbart/~3/FSlSbeLg4fE/