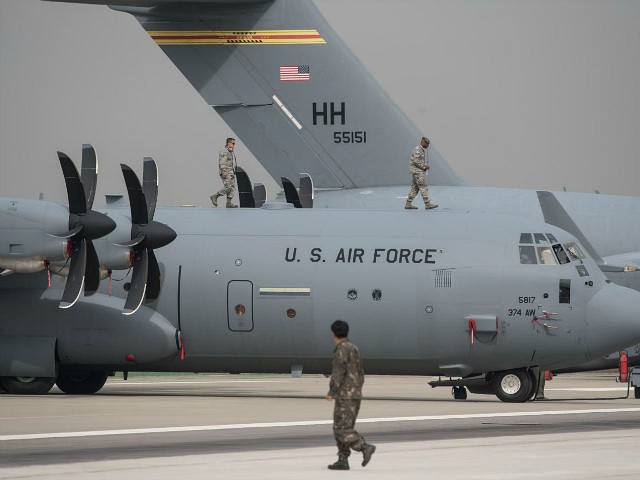 At the annual Air, Space, and Cyber Conference on Monday, Air Force Secretary Heather Wilson unveiled a study showing the USAF will need to grow by about 25 percent over the next decade to meet growing threats from China and Russia.
"The analysis says what every airman already knows: the Air Force is too small for what the nation is asking us to do. We have 312 operational squadrons today. The Air Force we need has 386 operational squadrons by 2030," Wilson said.
The analysis she presented, titled "The Air Force We Need," looked carefully at the threat posed by the rapidly modernizing and expanding Chinese and Russian militaries. Although Wilson was not at liberty to discuss classified intelligence, she illustrated the challenge ahead by highlighting current events such as the massive Russian and Chinese military exercise held this month, China's militarization of the South China Sea, and China's determined pursuit of aircraft carrier capability.
Wilson and Air Force Chief of Staff Gen. David Goldfein stressed that the report was written from the perspective of what the United States needs, not what the Air Force can afford under current budgeting. Returning to an Air Force nearly as large as its Cold War peak would obviously be an expensive undertaking and potentially a hard sell to Congress, especially with the new Space Command established by President Donald Trump competing for budget dollars.
In some respects, the latest Air Force analysis signals the beginning of a new Cold War, as the American military begins shifting its focus to deterring and fighting "near-peer" enemy nation-states sophisticated enough to contest control of the skies, rather than rooting out terrorist cells and glorified gangs like the Islamic State.
The Air Force of 2028 will need far more personnel — about 40,000 more, according to the report and supplemental data — and will be tasked with defending space, projecting overwhelming force through long-range bombers, and defending its assets against advanced enemy fighters and full-spectrum electronic warfare.
"We usually have the dialogue about the Air Force we can afford. This is different. This is about the Air Force we need to present credible options to compete, deter, and if deterrence fails, win," said Goldfein.
"We also know that there will be a debate about what we can afford – and that's fair. But I think we have to be clear on what is needed to protect our vital national interest in this country," Wilson added.
DefenseNews fears the Air Force will find itself playing political catch-up with other branches of the service:
For years, U.S Air Force leaders have lamented budget constraints that have forced the service to eliminate fighter squadrons, contributed to maintainer and pilot shortfalls, and slow-rolled some of its modernization needs.

Critics said the service had only itself to blame, as former leaders opted to discuss the force it could afford and never clearly telegraphed to Congress what it needed. They pointed to the Navy, which established a strong corps of advocates on Capitol Hill, in part, by touting easy-to-remember, aspirational and aggressive goals like a 355-ship fleet.
Retired Air Force Lt. Gen. David Deptula, dean of the Mitchell Institute for Aerospace Studies, told DefenseNews the Air Force is currently "under-resourced in every mission area it has."
"The nation runs the risk of being unprepared in the next major regional contingency, and we'll have to recuperate from a loss. That's a hell of a way to do business," he warned.
One of the challenges facing the Air Force is that the old threats are not going away.
International terrorism and insurgencies harmful to the United States and its allies will remain problems requiring constant attention from the sky. The new threats are evolving so rapidly that it is difficult to predict exactly what capabilities America's adversaries will possess in a decade or how those capabilities will be deployed against a nation with two very large and heavily populated coasts to defend.
The only thing every planner expects is the unexpected; near-peer adversaries will certainly want to begin any conflict with the U.S. Air Force with a massive surprise attack, rather than cordially inviting American pilots into the clouds to joust.
Preparations against surprise attacks are increasingly expensive given advances in aerospace technology. And funding requests will run into increasingly severe political turbulence as the U.S. government's finances grow more perilous, social spending and entitlements consume the budget, and peace activists question the high cost of preparing for hypothetical warfare.
Speaking at the Air, Space, and Cyber Conference, Deputy Chief of Staff of Operations Lt. Gen. Mark D. Kelly indicated that "logistics under attack" are a major concern moving forward, as the United States faces adversaries that can disrupt lines of supply and communications for the Air Force in ways less sophisticated enemies could not.
"We need our units to be adequately resourced with adequate authorities so that when they're cut off from a decision maker at the top, they have the authority and they have the trust to make decisions. We need our commanders to understand that the authorities, they have our trust, that when that communication is not there, they need to execute the commander's intent," Kelly said.
http://feedproxy.google.com/~r/breitbart/~3/EKtmoy1qAqE/