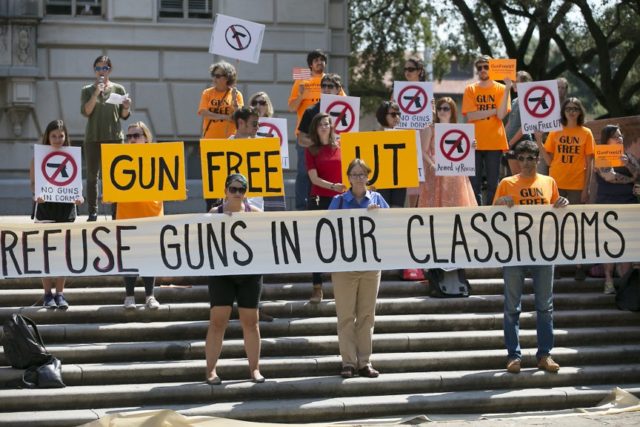 A new dildo display at the University of Texas at Austin seeks to immortalize a recent anti-gun protest dubbed "Cocks Not Glocks" that featured students carrying female sex toys around campus.
A new display put together by the anthropology department at the University of Texas at Austin intends to commemorate the campus' "Cocks Not Glocks" protest that primarily took place in 2016. The commemorative dildo, nicknamed "big boy," sits in a glass casing in a campus building. The protest, which carried the slogan "fighting absurdity with absurdity," aimed to bring attention to gun reform measures by outlandishly carrying dildos around campus.
Some students feel that "big boy" should be even more prominently displayed on campus. "It's in a very confined and hidden place," one student said in a comment to the campus' student newspaper. "Knowing Austin and knowing UT and what this stands for, I feel like it should be given a more prominent display and location. It has a story. Maybe it was a taboo in the past, but now it stands for something."
According to supporters, the dildo also represents Texas' history of sexual repression. A Texas state law arguably prohibits the ownership of six or more "obscene devices." Although the law is not often enforced, local attorneys argue that a police officer could choose to arrest someone for possession of six or more sex toys.
A plaque behind the sex toy explains the history of phallic shaped objects. "There is archaeological evidence that the phallus has been a symbol of sexual potency and fertility in many societies throughout human history," the plaque reads. "In many parts of the United States such phalli were illegal to sell and to own. For example the 'obscene device law' which prohibited the ownership and sale of phalli among other things, was entered into the State of Texas penal code in (1973)."
Anthropology graduate student Angelina Locker believes that "big boy" does an excellent job of forcing students to have uncomfortable conversations about gun rights.
"(The phallus) does a really good job in creating a bit of discomfort in people who see the display, so it's almost pushing (people) to engage in these discussions," Locker said in a comment. "It's kind of like a silent reminder that hey, this is ongoing, this is problematic for some people, campus carry can create uncomfortable spaces on campus, so let's continue that dialogue."
http://feedproxy.google.com/~r/breitbart/~3/Lt9KlXnE87g/