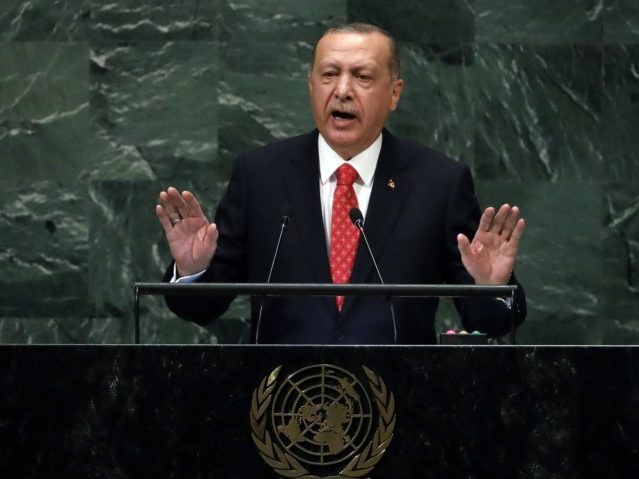 Turkish President Recep Tayyip Erdoğan made the case for expanding the U.N. Security Council to give power to smaller nations like Turkey, condemning the group's inaction in the face of some of history's greatest atrocities, during a speech to the General Assembly on Wednesday.
In remarks that covered a wide variety of topics, Erdoğan praised his country for accepting four million refugees, most from Syria, demanded the world condemn Islamic cleric and archrival Fethullah Gülen, and hinted at his country's frustration over sanctions the Trump administration imposed on Turkey in retaliation for the wrongful detention of American pastor Andrew Brunson.
While demanding the United Nations act to help displaced people around the world, from Libya to Afghanistan, return home, Erdoğan notably failed to mention the world's most rapidly-developing major migration crisis: in Venezuela, where Erdoğan continues to support socialist dictator Nicolás Maduro.
Erdoğan began his speech by condemning the U.N. Security Council.
"The massacres in Bosnia, Rwanda, Somalia, recently in Myanmar, and in Palestine as we speak, have all taken place before the eyes of the Security Council," Erdoğan argued, insisting on the latter group that "even if the entire world turns its back, we, Turkey, will continue to defend the rights of the Palestinians."
"When we say 'the world is greater than five,' we are becoming the voice of the common conscience, of the whole human race," Erdoğan insisted, referring to a phrase that has become the rallying cry of his Islamist Justice and Development Party (AKP) and refers to the five permanent members of the Security Council: the United States, the United Kingdom, France, Russia, and China.
"There is a need to increase the efficiency of this organization which I deem fundamental," Erdoğan insisted.
While condemning global instances of ethnic cleansing and genocide that happened with minimal useful U.N. intervention, Erdoğan failed to take the opportunity to recognize that Turkey committed the world's first modern genocide against Armenians, Assyrians, and Greeks to cleanse the territory of Christians between 1914-1923. Turkey maintains an official policy of denying that the genocide occurred; Erdoğan personally denies that Turkey had any fault in the historical event.
In continuing his speech, Erdoğan cited the Islamic philosopher Rumi's assertion that "justice is restoring things to their proper place, meaning giving someone what he or she needs or desire." Conversely, Erdoğan asserted, "an oppressor is one who does not fulfill duties vis a vis humanity."
"If we want to make the U.N. a source of justice instead of cruelty, we have to dedicate ourselves more fully to the tasks upon us," Erdoğan lectured. "Let us establish a global administration system that serves as a shield to the oppressed and victimized."
The Turkish president cited Ankara's involvement in Syria against dictator Bashar al-Assad and against U.S.-allied Kurdish groups as an example of his definition of justice. "We believe that Turkey cleared the way for peace … in Syria," he proclaimed, asserting that Turkey aspires to "clear" territory from the Turkish border to the Iraqi border of "terrorist" elements.
He then went on to urge action against Gülen, the head of a global charter school network known as Hizmet. Erdoğan and his government called Hizmet the "Fethullahist Terrorist Organization," or FETO. Erdoğan reiterated his claim that FETO was behind the failed coup against him in July 2016 and accused the group of "hiding behind glossy concepts like education welfare and dialogue."
"The leader of this terror organization is currently living in Pennsylvania on a land of more than 400 acres in a very well off fashion," Erdoğan said. "FETO in the United States is generating between $700 and $800 million through their charter schools."
Ankara has repeatedly demanded the United States extradite Gülen. On repeated occasions, including following the 2016 failed coup, Washington noted that Turkish prosecutors had not collected any evidence concretely link Gülen to the incident, which he denies involvement in. Turkey on at least one occasion admitted it had not sent Washington any evidence tying Gülen to the coup.
Erdoğan's government has arrested, detained, or dismissed from government work hundreds of thousands of people, depleting the nation's military often with scant evidence of individuals having any ties to Gülen. Erdoğan has also led an unprecedented crackdown on Turkish media outlets critical of his Islamist regime, claiming them to have ties to Gülen.
At the United Nation, Erdoğan ended his remarks with an ominous warning for his peers: "if we cannot create a minimum level of peace and prosperity for all, all over the world, no one can live safely within their own borders."
Follow Frances Martel on Facebook and Twitter.
http://feedproxy.google.com/~r/breitbart/~3/zWJmtVU4VTc/