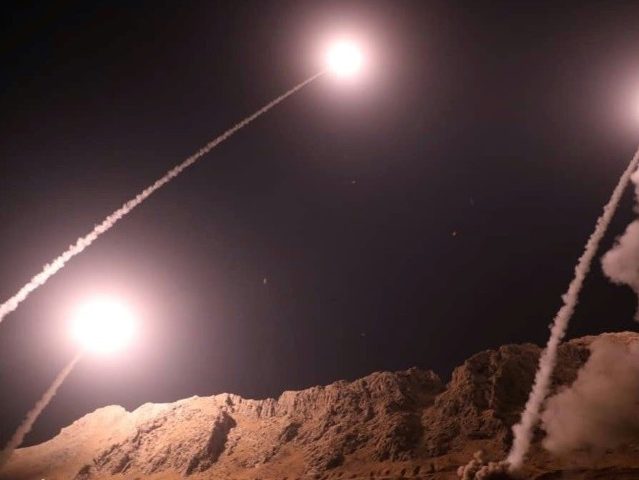 The United Nations Security Council met behind closed doors on Tuesday to discuss Iran's latest missile tests, which the United States and other Western allies denounced as a violation of a U.N. resolution.
Tuesday's meeting ended with no agreed statement, despite Washington leading condemnation of this weekend's ballistic missile test as both "dangerous and concerning."
The U.S. also argued the test was a violation of UN resolution 2231, passed in 2015, which bans Iran from "any activity related to ballistic missiles designed to be capable of delivering nuclear weapons, including launches using such ballistic missile technology."
"The United States has repeatedly warned the world about Iran's deliberate efforts to destabilize the Middle East and defy international norms," U.S. Ambassador Nikki Haley said in a statement. "The international community cannot keep turning a blind eye every time Iran blatantly ignores Security Council resolutions."
Secretary of State Mike Pompeo also released a statement warning of an "accumulating risk of escalation" in the region if appropriate measures are not taken.
"As we have been warning for some time, Iran's missile testing and missile proliferation is growing. We are accumulating risk of escalation in the region if we fail to restore deterrence," he said in a statement. "We condemn these activities, and call upon Iran to cease immediately all activities related to ballistic missiles designed to be capable of delivering nuclear weapons."
Iran's Ambassador to the U.N. argued that such claims were formed part of "a deceptive and hostile policy of the U.S" designed to undermine the regime's stability.
"Like the past 40 years, the Islamic Republic of Iran will not only survive against all United States animosities, unlawful measures as well as overt and covert plots and plans, but also advance its objectives without sacrificing its sovereignty," the Ambassador's office wrote in a letter to the security council.
On Tuesday, Reuters quoted a senior Iranian military official as saying that the regime planned to increase its current missiles' range, making them capable of reaching U.S. bases in Afghanistan, the United Arab Emirates, and even Qatar.
"One of our most important programs is increasing the range of missiles and ammunition," said the head of the Iranian air force, Brigadier General Aziz Nasirzadeh. "We don't see any limitations for ourselves in this field."
President Donald Trump repeatedly criticized Iran's ability to continue developing ballistic missiles before he pulled out of the Iran deal this year, although Tehran has maintained that this clause is not up for negotiation. Tensions between both countries have intensified since Trump's decision to exit the deal and reimpose economic sanctions that have severely damaged the country's stagnant economy.
Follow Ben Kew on Facebook, Twitter at @ben_kew, or email him at bkew@breitbart.com.
http://feedproxy.google.com/~r/breitbart/~3/flgqQ0QedhY/