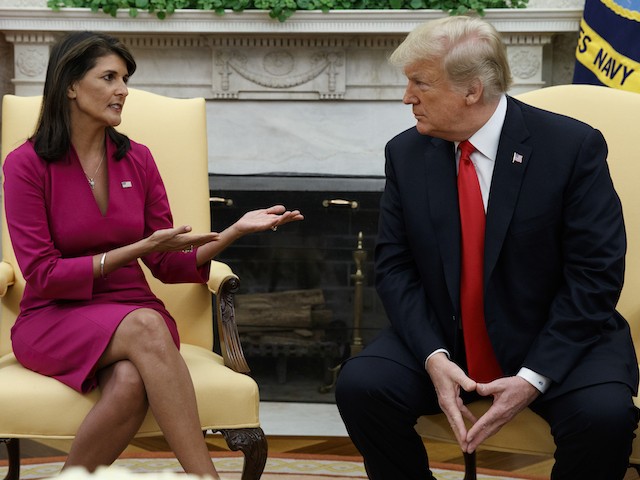 President Donald Trump met with U.N. Ambassador Nikki Haley at the White House on Tuesday to accept her resignation from his administration.
But Haley made it clear in the meeting that she did not plan on challenging the president in 2020.
"No, I'm not running for 2020," she said. "I can promise you what I'll be doing is campaigning for this one. So I look forward to supporting the president in the next election."
Haley and the president met in the Oval Office to discuss her decision to leave and announce it to the media.
"I do think that sometimes it's good to rotate in other people who can put that same energy and power into it," she said.
She called her service in the administration "the honor of a lifetime" but said that she was ready to leave.
"I am such a lucky girl to have been able to lead the state that raised me and to serve a country I love so very much," she told reporters. "It has really been a blessing."
The president thanked Haley for her service in his administration, calling her a "fantastic person" and said she was welcome to return to the administration at any time.
"Hopefully, you'll be coming back in some capacity. You can have your pick," he said.
Haley praised Trump's son-in-law Jared Kushner and his daughter Ivanka Trump in glowing terms for their assistance in diplomacy and world affairs.
"Jared is such a hidden genius that no one understands," she said, praising his Middle East peace discussions and his work on the renegotiation of NAFTA. "Ivanka has been just a great friend and they do a lot of things behind the scenes that I wish more people knew about."
Haley is expected to leave at the end of the year.
Axios reporter Jonathan Swan broke the news Tuesday morning.
It is unclear who will take Haley's place in the administration, but Trump said that he would announce a successor in the next two or three weeks.
"It's a great position," Trump said, praising Haley for making the job of U.N. Ambassador "more glamorous" and "more important."
Haley was widely respected among Republicans in Washington, DC, even among Never Trump conservatives who repeatedly talked up the possibility of her challenging the president in 2020.
http://feedproxy.google.com/~r/breitbart/~3/UGYOe7X1rWo/