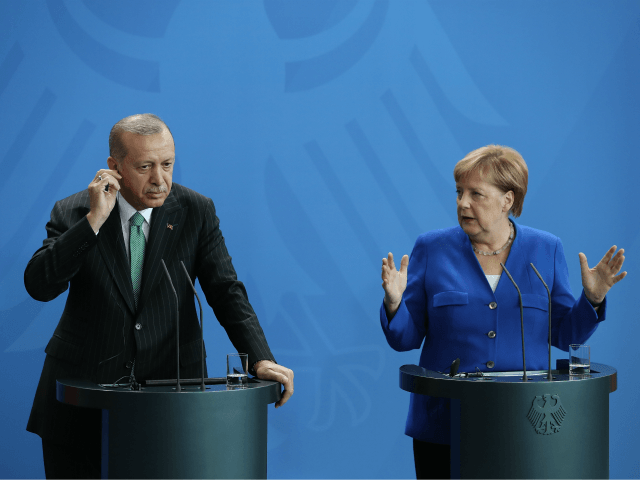 Turkish President Recep Tayyip Erdogan was welcomed with a chilly reception from German political leaders this week with Angela Merkel saying the two countries have "profound differences."
The meeting between President Erdogan and Chancellor Merkel in Berlin has also been marred by other controversies including reports that Erdogan demanded the German government extradite 69 Turkish activists, Kronen Zeitung reports.
Among the activists is journalist Can Dündar, who the Turkish government accuses of spying, saying he is "a spy who has published state secrets" while editor-in-chief of the newspaper Cumhuriyet, which is known as being critical of the regime.
Dündar initially planned to attend a joint press conference with Erdogan and Merkel so he could ask the Turkish leader questions but decided not to go after the Turkish government threatened to scrap the conference if he showed up.
During the press conference, another man wearing a t-shirt reading 'Press Freedom for Journalists in Turkey' in German was removed by police.
Erdogan Claims Germany a 'Haven for Terrorists' https://t.co/Syfb3GbSRM pic.twitter.com/4ykaNZtDOX

— Breitbart London (@BreitbartLondon) November 4, 2016
"We have a lot that unites us," Merkel said during the conference, despite also calling for a resolution to cases in which German citizens were arrested and being held in Turkey.
One of the most famous, journalist Deniz Yucel, was released earlier this year, as was journalist Mesale Tolu.
Erdogan, in turn, demanded Germany send Turkey supporters of Fethullah Gülen, who is blamed for the failed coup attempt in 2016. The Turkish leader also said there were, "thousands of members of the PKK terrorist organization" living in Germany.
Protests against the visit of Erdogan were also announced in Berlin, with one demonstration at Potsdamerplatz registered for at least 10,000 participants. Around 4,200 police have been deployed on the streets of the German capital for the Turkish leader's visit.
Support for Erdogan among Turks in Germany is among the highest in Europe, as shown by data gathered earlier this year after the Turkish national election.
According to the data, Erdogan won the support of 64.8 percent of Turks in Germany. Only Belgium, the Netherlands and Austria showed more support for the Turkish president.
Follow Chris Tomlinson on Twitter at @TomlinsonCJ or email at ctomlinson(at)breitbart.com
http://feedproxy.google.com/~r/breitbart/~3/BHApPyRtawI/