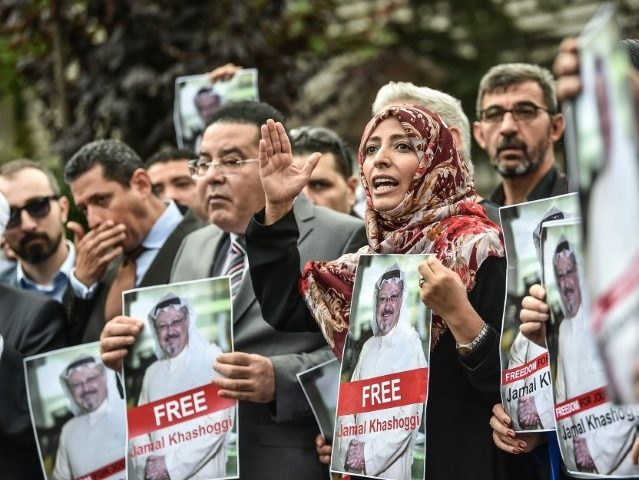 Turkish media reported on Thursday that one of the 15 Saudis who ostensibly flew to Istanbul to kidnap or murder Jamal Khashoggi died in a "suspicious car accident" in Riyadh.
Pro-government Turkish newspaper Yeni Safak openly stated the car-crash victim, 31-year-old Mesal Saad el-Bostani, was killed to "silence" him before he could talk about the "brutal murder" of Khashoggi. The Turkish paper admitted its sources could provide no details about the time or manner of Bostani's death.
"Whether the other members of the team will be eliminated in a similar way is a matter of conjecture," Yeni Safak conjectured.
Turkey's Hurriyet Daily News contributed speculation that Saudi consul Mohammad al-Otaibi will be the "next execution" as the Saudis cover their tracks, based on as-yet-uncorroborated claims Otaibi was recorded pleading with the death squad to take its grisly business outside and told to "shut up" or he would be killed as well.
Israel's Haaretz went to great lengths translating Turkish media accounts of Bostani's connections to both the Khashoggi disappearance and Saudi Crown Prince Mohammed bin Salman. The accounts described Bostani as a lieutenant in the Saudi Royal Air Force who was captured in surveillance footage from several locations in Istanbul on October 2, the day of Khashoggi's disappearance. Witnesses allegedly spotted Bostani at the home of the Saudi consul general in Istanbul, checking out of a hotel, walking past police barricades outside the Saudi consulate a few hours before Khashoggi's arrival, and departing at the airport.
Bostani was also allegedly photographed as part of Crown Prince bin Salman's entourage when he visited Houston, Texas, in April as part of a trip that also included meetings with top American business executives and celebrities. In these pictures, Bostani was wearing a lapel pin of the American and Saudi flags that was also worn by the prince's bodyguards.
As of Thursday afternoon, there does not appear to be any corroboration beyond Yeni Safak's claims that Bostani was involved in a car accident or killed.
http://feedproxy.google.com/~r/breitbart/~3/PlQ6X-cHpQw/