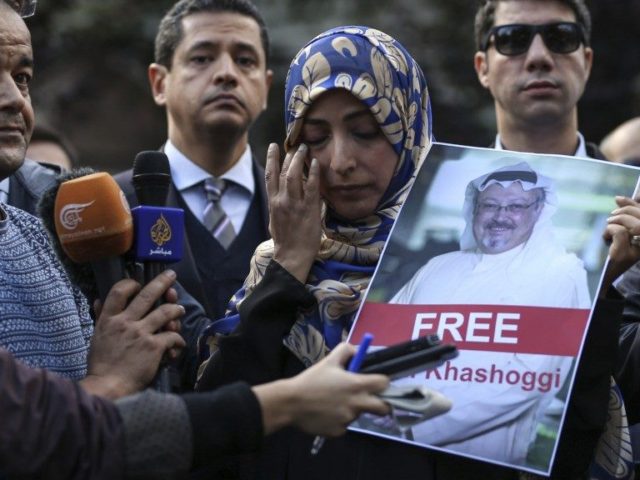 Turkey's pro-government newspaper
Yeni Safak
quoted anonymous security sources on Thursday who said a forest and farmhouse near Istanbul will be searched for clues to the fate of Jamal Khashoggi.
If the report is accurate, it would indicate an unusual turn in the investigation. Turkish media have reported their government is thoroughly convinced Khashoggi was murdered inside the Saudi consulate in Istanbul and his body was most likely dismembered and dissolved in acid. Turkish president Recep Tayyip Erdogan came very close on Tuesday to accusing the Saudis or concealing evidence of acid burns in the consulate building.
Turkey's English-language Hurriyet Daily News renders Yeni Safak as claiming investigators "are expected to make excavations in Belgrad Forest and a farmhouse in Yalova, if needed."
Yalova province is on the far side of the Sea of Marmara from Istanbul, a good 60 miles away, which would make it an inconvenient but not impossible destination for a visiting hit squad running on a tight schedule.
Hurriyet Daily News quoted local media who claimed one of the vans allegedly used by the Saudi team was spotted in the Termal district of Yalova on October 2, the day Khashoggi disappeared.
"The district is particularly popular among Arabs as a holiday destination with its lush nature and famous spas," Hurriyet observed.
The Washington Post, which employed Khashoggi as a contributor, quoted an unnamed Turkish official who said the authorities are "investigating the idea that the Saudi team drove around Istanbul looking for parks and open areas to possibly dispose of the body."
The Post also cited Turkish media reports that the police are "reviewing security footage" from the entrances to Belgrad Forest, which is about 10 miles north of the Istanbul city center. These reports imply the earlier leaks about the Saudis dissolving Khashoggi's remains in acid were not correct, and the police believe his body may yet be recovered.
http://feedproxy.google.com/~r/breitbart/~3/n0wlpH8LWus/