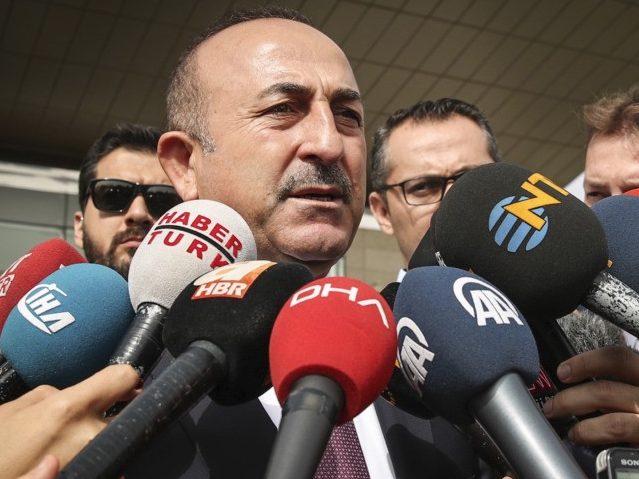 Turkish Foreign Minister Mevlut Cavusgolu declared on Friday that rumored audio recordings of Jamal Khashoggi's death have not been shared with officials from the United States or any other country.
This ended a brief and ugly news cycle in which U.S. media repeated Turkish accounts based on anonymous sources who claimed Secretary of State Mike Pompeo personally listened to the recordings and the Trump administration is merely pretending they might not exist.
ABC News published the Turkish rumors and the official response on Friday morning:
Secretary of State Mike Pompeo has heard an alleged audio recording of Washington Post columnist Jamal Khashoggi's murder inside the Saudi consulate in Istanbul, according to a senior Turkish official.

Speaking exclusively and on condition of anonymity to ABC News, the official claimed the recording was played in meetings in Turkey on Wednesday, and that Pompeo was given a transcript of the recordings.

Separately, ABC News has also learned that Turkish officials believe that Khashoggi was killed inside the Saudi consulate following a struggle that lasted eight minutes and that they believe he died of strangulation.
For those keeping track of the ever-shifting story emanating from anonymous Turkish officials, this would be a significant change from the storyline developed over the past week that Khashoggi was savagely hacked to pieces while still alive.
ABC included the denials from the State Department and Secretary Pompeo, followed by Turkish Foreign Minister Mevlut Cavusoglu definitively stating the rumored audio has not been shared with any foreign government:
"Secretary Pompeo has neither heard a tape nor has he seen a transcript related to Jamal Khashoggi's disappearance," said State Department spokeswoman Heather Nauert.

Pompeo was asked later in the evening about the matter in a brief interview with reporters on a flight to Mexico City, part of a tour to Mexico and Panama.

"I've heard no tape, I've seen no transcript," Pompeo told reporters in the only question he would take on the topic. After initially declining to take questions on the matter in favor of questions regarding his trip, Pompeo denied ABC News' report, calling it "factually false."
Cavusoglu's statement was carefully worded to avoid confirming or denying the existence of the audio recording: "Turkey has not given a voice recording to Pompeo or any other American official. The chief prosecutor of Istanbul has launched an investigation and we are waiting for the results of this investigation."
"We will share the results that emerge transparently with the whole world. We have not shared any information at all with any country," Cavusoglu promised.
But then ABC injected a little editorializing that implied Pompeo did hear the tape, obtained a transcript, and showed it to President Donald Trump, who abruptly adjusted his stance on Saudi involvement in Khashoggi's disappearance:
President Trump has been publicly asking to hear the recording. Pompeo met with the president at the White House on Thursday morning to brief him on his visit to Turkey and Saudi Arabia, where he met with Saudi King Salman and Crown Prince Mohamed bin Salman.

It is unknown whether Pompeo shared the transcript with the president, but soon after the meeting, the president changed his tune.

While earlier in the week the president questioned whether the audio recording existed and cautioned against blaming Saudi Arabia for Khashoggi's disappearance, on Thursday afternoon his administration abruptly canceled a visit to Saudi Arabia by Treasury Secretary Steve Mnuchin to attend a large investment conference hosted by the Crown Prince, whom Turkish officials have reportedly claimed was behind Khashoggi's killing.
Hostile media accounts of the Trump administration's response to Khashoggi's disappearance strive to create the impression White House and State Department officials are stonewalling to give the Saudis cover, but Turkish officials who go on the record are equally insistent on needing a few more days to complete their investigation. Coverage of the case by U.S. media has been largely driven by the much more incendiary comments of anonymous Turkish officials speaking off the record.
Cavusoglu, in fact, said it would be "out of the question" for Turkish investigators to share any of the evidence they have gathered with any foreign official until the investigation is complete.
NBC News reports it was told by "multiple government officials" on Thursday that U.S. intelligence agencies are investigating Khashoggi's disappearance. These sources said the "believe it's inconceivable" that Saudi Crown Prince Mohammed bin Salman had nothing to do with Khashoggi's death – which would, in turn, imply U.S. intelligence is convinced Khashoggi was murdered. However, they have not uncovered any "smoking gun" evidence of the crown prince's involvement.
http://feedproxy.google.com/~r/breitbart/~3/OZeoUQfzLjs/