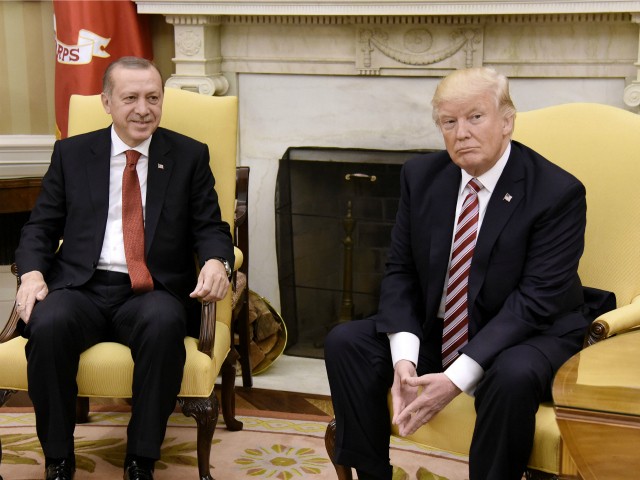 President Recep Tayyip Erdoğan told members of his Islamic Justice and Development Party (AKP) on Friday that the United States had attempted an "economic assassination" on Turkey, one that his administration has largely "stopped."
The Turkish lira has lost more than 40 percent of its value in the past year, currently trading at 6.13 lira to the dollar, largely the product of sanctions and tariffs Washington has imposed on Erdoğan's administration over the continued detention of American pastor Andrew Brunson. Ankara alleges that Brunson, who preached the Gospel in Izmir for more than two decades, was reportedly operating as a spy for Islamic cleric Fethullah Gulen and the Marxist Kurdistan Workers' Party (PKK) terrorist group.
Speaking to regional AKP leaders on Friday, Erdoğan declared that it was an "economic assassination that brought [the dollar/lira exchange rate] to 7.0. We have stopped this attack at some point."
"This issue is totally directed by political motives," Erdoğan insisted. "It is happening because we are not responding to the disrespectful stance of the U.S. administration against our sovereignty rights. Recent economic fluctuation in Turkey shows no country in the world is secure politically and economically."
The president also had negative words to say about the Turkish Central Bank, which moved to raise the national interest rate from 17.75 percent to 24 percent this week despite Erdoğan's warning against the move. The interest rate boost brought the value of the lira up slightly to around six lira per U.S. dollar.
"We will see the result of the Central Bank's independence. This is my personal phase of patience. This patience has a limit," Erdoğan said on Friday, according to Turkey's Hurriyet newspaper.
Erdoğan went on to urge listeners to convert their savings to the lira to help shore up the strength of the currency.
The Turkish president has repeatedly called American sanctions against Turkey in the name of religious freedom an economic "war" and an attempt to change Turkish culture.
"An attack on our economy is no different from a direct strike against our flag and call to prayer. The purpose is not different. It aims to bring Turkey and the Turkish people to their knees," Erdoğan said in an Eid statement in August. "We are a kind of a people who prefer to be beheaded instead of being chained around the neck."
Erdoğan's Islamist supporters appear to agree with him that the sanctions are part of a larger operation to weaken Turkey. Ibrahim Karagül, the editor-in-chief of the pro-Erdoğan newspaper, Yeni Safak, wrote on Friday that the sanctions were not only an "assassination," but "economic terrorism."
"This is not an economic crisis, it is a clear attack and it is continuing before our very eyes," Karagül writes. "As a matter of fact, it was planned as an external threat and is being carried out as a multinational intervention. An economic attack is a political attack, a security attack, and a plan to destroy our country's future."
The editor goes on to demand the imposition of a "state of emergency" that would grant Erdoğan almost complete control of every aspect of the Turkish government.
President Donald Trump's administration has spent months trying to negotiate a safe release for Brunson, who denies the allegations against him. The State Department and White House have repeatedly stated that Turkish prosecutors have not put together a believable case against Brunson. Erdoğan has stated he would be willing to free Brunson in exchange for the extradition of Gülen, a statement many considered an admission that Brunson is being kept as a hostage.
In early August, the Treasury Department sanctioned Turkey's Minister of Justice Abdulhamit Gul and Minister of Interior Suleyman Soylu, freezing all, if any, assets they have in the United States and generally banning Americans from business with them. Days later, Trump announced he had approved doubling of tariffs on Turkish steel and aluminum, denting the Turkish economy once again.
Ankara retaliated with tariffs on American rice, alcohol, tobacco, and other products, which have yet to make a significant impact on the U.S. economy.
Follow Frances Martel on Facebook and Twitter.
http://feedproxy.google.com/~r/breitbart/~3/cfvgTTT_rFA/