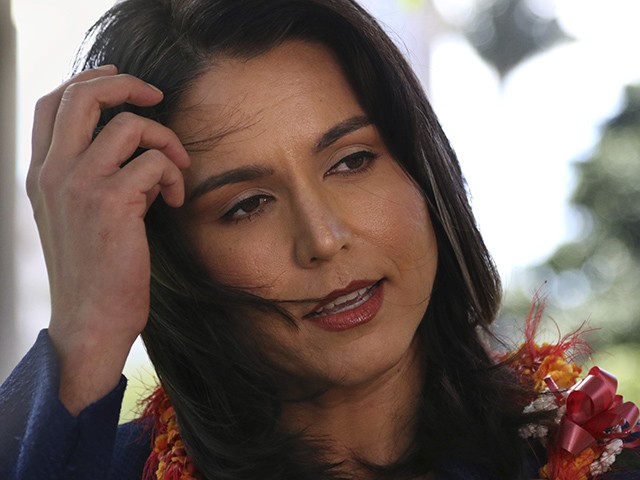 Rep. Tulsi Gabbard (D-HI) was the headline speaker at a meet-and-greet with Democrat activists in New Hampshire on Sunday as the progressive congresswoman weighs a bid for the presidency in 2020.
"I'm seriously thinking of how I can best be of service to our country," Gabbard told Concord Monitor News reporter Paul Steinhauser before meeting with Rockingham County Democrats in the town of Exeter.
2020 WATCH: Hawaii Rep. @TulsiGabbard – in NH today – tells me "I'm seriously thinking of how I can best be of service to our country" when asked about a possible Democratic presidential bid. My @seacoastonline @FostersDailyDem story at https://t.co/xY3QFt3h53 #nhpolitics #FITN pic.twitter.com/hK0xdmNii4

— Paul Steinhauser (@steinhauserNH1) December 3, 2018
In her remarks to party members, Gabbard criticized President Donald Trump's communication style, calling it "painful and disheartening," while lamenting the direction the U.S. is heading in.  "To see how much divisiveness and hatred is being fomented by those who wish to tear us apart," the Hawaii Democrat said, adding that there is "no force more powerful than love."
"When we start from this foundation of love, inspired by this love, then we can truly have that strength and that power to be able to take on the tough challenges that are before us," she continued.
As Breitbart News previously reported on Gabbard:
The congresswoman recently called for the U.S. to end all involvement in Saudi Arabia's military intervention in Yemen, calling the ongoing civil war a humanitarian crisis. "It is long overdue that we end U.S. complicity in Saudi Arabia's atrocities," Gabbard said, as quoted by CBS News. "We must end all U.S. support for Saudi Arabia's genocidal war in Yemen now."

Last year, the Hawaii Democrat came under fire for an impromptu meeting with Syrian president Bashar Assad during a fact-finding trip aimed at finding solutions to ending the war in Syria. Gabbard, who backed Sen. Bernie Sanders's (I-VT) 2016 presidential run, is said to be mulling a White House bid in 2020.
Last month, Gabbard made headlines after lashing out at President Donald Trump after declaring he would not further punish Saudi Arabia for the murder of Washington Post contributor Jamal Khashoggi — making clear in an exclamation-filled statement the benefits of good relations with the kingdom outweigh the possibility its crown prince ordered the killing.
The president condemned the brutal slaying of Khashoggi inside the Saudi consulate in Istanbul as a "horrible crime … that our country does not condone." But he rejected calls by many in Congress, including members of his own party, for a tougher response, and also dismissed reports from U.S. intelligence agencies that Crown Prince Mohammed bin Salman must have at least known about such an audacious and intricate plot.
"It could very well be that the crown prince had knowledge of this tragic event," the president said. "Maybe he did and maybe he didn't!"
In response, Gabbard tweeted that "being Saudi Arabia's bitch is not 'America First.'"
Hey @realdonaldtrump: being Saudi Arabia's bitch is not "America First."

— Tulsi Gabbard (@TulsiGabbard) November 21, 2018
The Associated Press contributed to this report.
http://feedproxy.google.com/~r/breitbart/~3/5qv8-bHH7Bc/