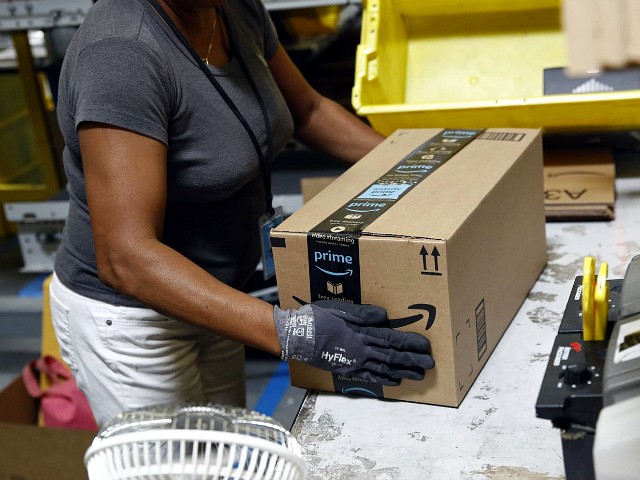 Multinational tech corporation Amazon has increased its minimum wage for its workers to $15 an hour, a benefit of President Donald Trump's tightened labor market.
This week, Amazon executives announced $15 minimum wage for all U.S. workers, including workers with full-time and part-time hours and those who are temporary workers and working in seasonal positions. The pay increase will also be extended to Whole Foods workers, which Amazon now owns.
The wage hike for Amazon and Whole Foods American workers comes just before the holidays when both companies are likely to need more workers. Rather than importing foreign workers, Trump's tight labor market is forcing corporations to raise their wages to attract Americans.
Nonetheless, Amazon has continued to import foreign workers to take high-paying, white-collar jobs at the tech conglomerate. In 2017, alone, Amazon tried to import more than 2,500 foreign workers on H-1B visas, more than any other tech company in the country.
Likewise, Amazon is also one of the largest U.S. multinational corporations to lobby for mass illegal and legal immigration to the country, a national policy that benefits the corporation as it brings more cheap, foreign labor to the country to hire and more consumers to buy their products.
Most recently, the tight labor market helped reintegrate retirees back into the workforce. Breitbart News has also reported extensively on how the tight labor market in Trump's "hire American" economy has brought new job opportunities for Americans with disabilities and helped lower the demographic group's unemployment rate.
There has also been history-making wage growth for American workers in the construction industry, the garment industry, for workers employed at small businesses, black Americans, and restaurant workers.
The tight labor market has also secured higher wages for overtime workers and high-paying, coveted white-collar jobs for American teenagers. Breitbart News reported that the construction industry has had to recruit women to take jobs at higher wages rather than hiring illegal aliens. A Chick-Fil-A in California has even raised wages to $18 an hour to retain workers.
John Binder is a reporter for Breitbart News. Follow him on Twitter at @JxhnBinder. 
http://feedproxy.google.com/~r/breitbart/~3/EyZgb0Kc51Q/