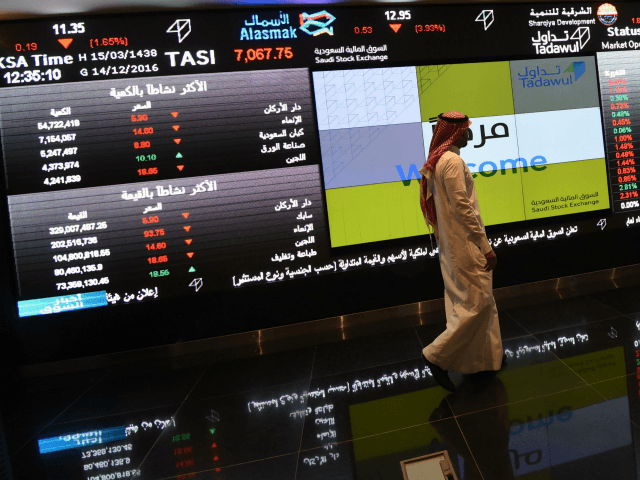 Donald Trump's warning that any involvement by Saudi Arabia in the disappearance of journalist Jamal Khashoggi would be met by "severe punishment" crashed the stock market in Riyadh on Sunday.
The Tadawul All-Shares Index (TASI) shed more than 500 points on the first trading day of the week, wiping out all the gains it had made since January 1.
The index had already dropped 3.0 percent on Thursday, following a rout on world stock markets on the back of worries about higher interest rates.
Turkish officials fear Saudi agents killed and dismembered Khashoggi after he entered the Saudi Consulate in Istanbul on Oct. 2, claiming audio and video recordings of the murder exist although they have not been released. The oil-rich kingdom has called the allegations "baseless," but has offered no evidence the writer ever left the consulate.
Khashoggi, who was considered close to the Saudi royal family, had become a critic of the current government and Prince Mohammed, the 33-year-old heir apparent who has shown little tolerance for criticism.
In an interview to be aired Sunday, Trump told CBS' "60 Minutes" that the consequences of Saudi Arabia being proven agents in the disappearance of the Washington Post journalist would be "severe."
"There's something really terrible and disgusting about that, if that was the case, so we're going to have to see," Trump said. "We're going to get to the bottom of it and there will be severe punishment."
However, Trump in the same interview said: "As of this moment, they deny it and they deny it vehemently. Could it be them? Yes."
A bipartisan group of senators has already written to the White House invoking the Global Magnitsky Human Rights Accountability Act to demand an investigation into the disappearance and possible sanctions against Saudi Arabia.
Saudi stock analaysts are trying to contain any sense of panic.
Mohammed Zidan, market strategist at Thinkmarket in Dubai, said the drop in local stocks was the result of panic selling driven by select political and economic factors.
"There has been a kind of uncertainty surrounding the situation of the disappearance of Khashoggi which has caused the market to fall," Zidan told AFP.
AFP contributed to this report.
Follow Simon Kent on Twitter:

Follow @SunSimonKent

or e-mail to: skent@breitbart.com



http://feedproxy.google.com/~r/breitbart/~3/hrP2hksi44s/