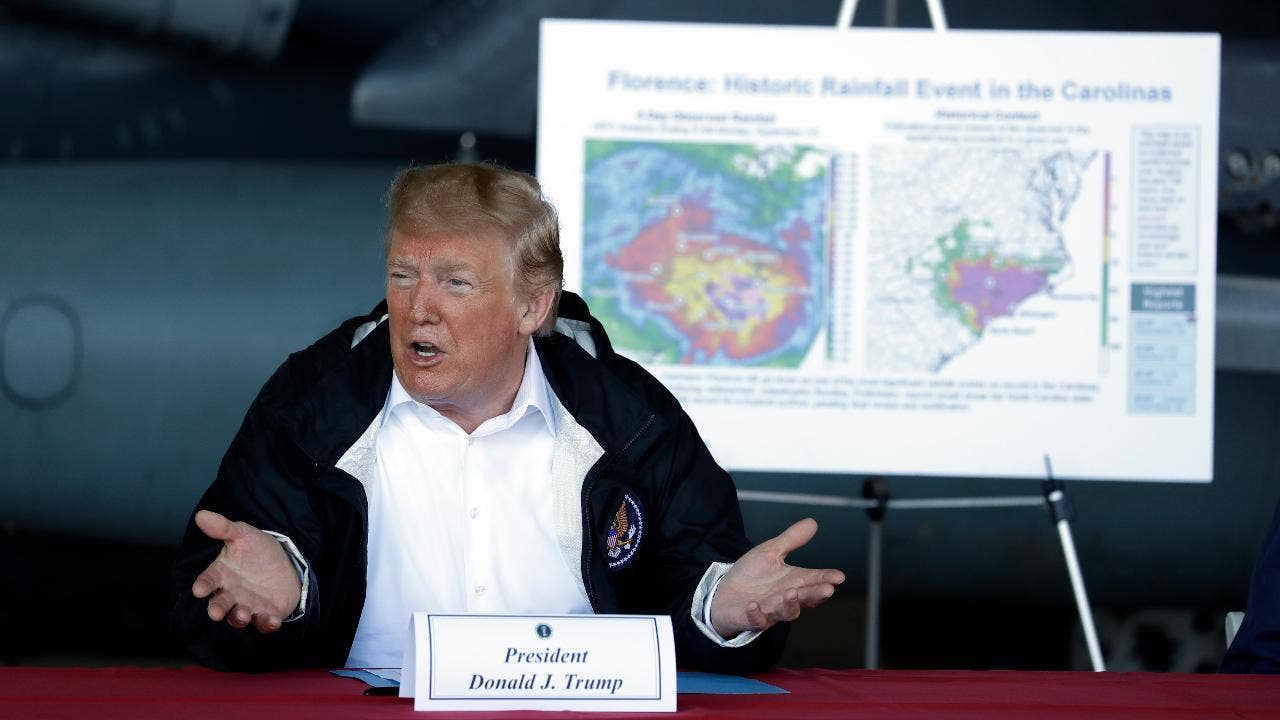 President Trump on Wednesday traveled to the Carolinas to visit areas ravaged by Hurricane Florence last week, assuring local families and officials that the federal government would provide "a lot of money," and that there will be "nothing left undone," in recovery efforts.
At his first stop in Cherry Point, North Carolina, Trump participated in a hurricane briefing, where he praised all agencies involved in recovery efforts, calling Florence the most powerful hurricane to hit the Carolinas.
Speaking directly to families in North Carolina, the president offered his support.
"America grieves for you, in our hearts, and prays for you," the president said. "We are with you."
The president assured locals that federal funding would be available.
"We've had a lot of help from Congress, in all fairness," Trump said. "We're ready and they are ready to do whatever we have to do to make this perfect, and unfortunately that means the money will be a lot, but it will come as fast as you need, but to take care of everybody."
Trump said federal resources would be there "100 percent."
"We started early, we'll be here late," Trump said.
"We're getting all teed up for a lot of money to come down to the area. You're going to need it. We have it, and we will be supplying it," Trump said. "There will be nothing left undone. You will have everything you need…going to be probably a rough two weeks and then it'll get a little bit softer."
Trump added: "People don't realize how a very difficult phase is beginning, even with the beautiful sunshine."
Trump traveled with North Carolina Republican Sens. Richard Burr and Thom Tillis; South Carolina Republican Sens. Lindsey Graham and Tim Scott; Homeland Security Secretary Kirstjen Nielsen, chief of staff John Kelly, Small Business Administrator Linda McMahon and Office of Management and Budget Director Mick Mulvaney.
The president met Federal Emergency Management Agency (FEMA) Administrator Brock Long on the ground in North Carolina.
Following the briefing in Cherry Point, the president's motorcade traveled to the city of New Bern, where he visited Temple Church, a Baptist church serving as a distribution center. Trump was greeted by the local pastor.
The church was stocked with 1200 meals for locals in need. The president helped volunteers distribute the meals.
The president then toured a neighborhood in New Bern, telling locals that the government was "going to be here with you, you know that, we're with you already, we'll get it fixed up."
The storm dumped nearly three feet of rain in North Carolina. At least 27 of the 37 Florence-related deaths happened in North Carolina.
In South Carolina, two women died on Tuesday after a van was overtaken by rising floodwaters.
According to the White House, 20,000 federal employees have been mobilized to assist with Florence recovery, with FEMA conducting more than 2,000 rescues in the region, and sheltering 15,000 people. 
The White House said the administration was prepared for Florence, "prestaging numerous resources and planning federal assistance." 
Federal authorities are working with private partners, as well, including the American Red Cross. 
White House Press Secretary Sarah Sanders told reporters that the president "wanted to see the areas that were hit the hardest and most impacted by flooding," adding that he also wanted to make sure to meet with people in those areas.
In North Carolina, the president called the damage "incredible."
Fox News' Serafin Gomez, Matt Leach, Kristin Brown, Jennifer Bowman and The Associated Press contributed to this report.
http://feeds.foxnews.com/~r/foxnews/politics/~3/U3iDTo-zOlI/trump-vows-to-send-lot-money-to-florence-ravaged-carolinas-there-will-be-nothing-left-undone.html