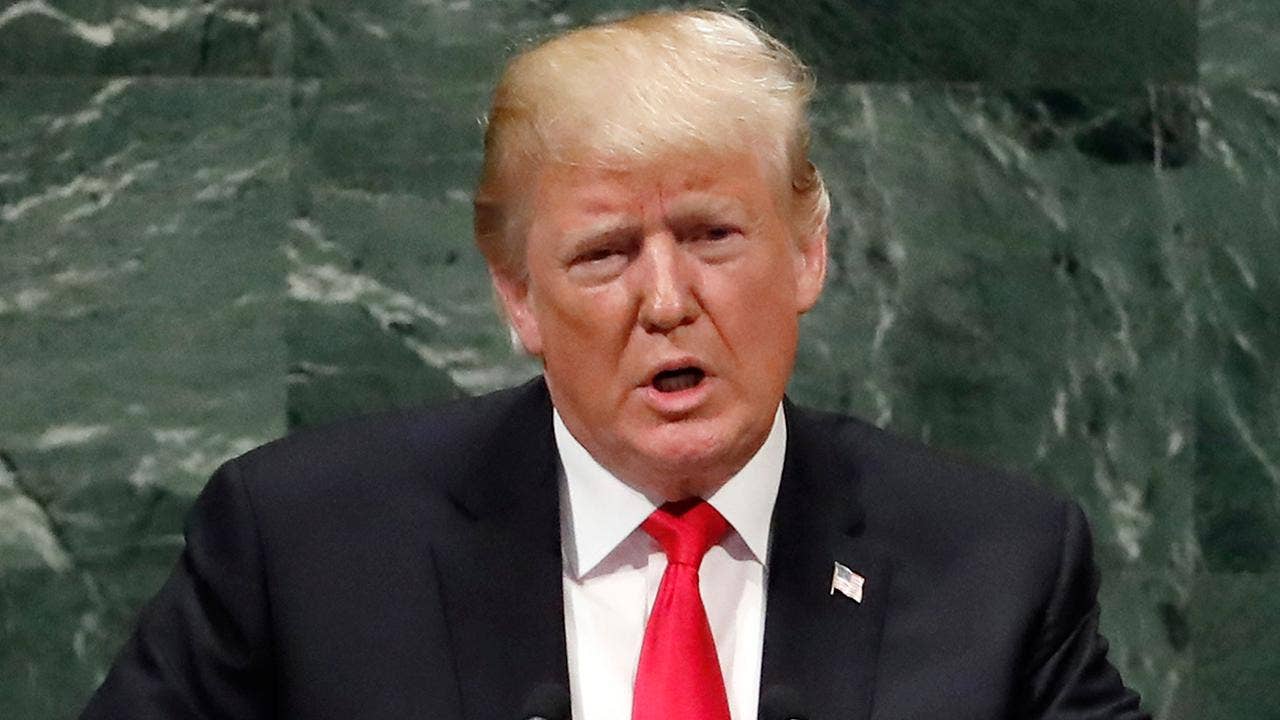 President Trump on Tuesday traded fiery accusations with Iran's president on floor of the U.N. General Assembly, calling on the international community to isolate the regime as Hassan Rouhani accused Trump of having a "Nazi disposition."
"We ask all nations to isolate Iran's regime as long as its aggression continues," Trump said during his speech to the assembly.
Trump pulled the U.S. out of the 2015 Iran deal in May, and the administration imposed economic sanctions in August. The administration is expected to slap further sanctions on Iran's crude oil exports in November.
Trump said Tuesday that the regime "embezzled billions of dollars from Iran's treasury, seized valuable portions of [the] economy and looted people's religious endowments" to export war abroad. He alleged Iran uses funds from the nuclear deal to repress its people and "fund havoc and slaughter in Yemen and Syria."
"The U.S. has launched a campaign of economic pressure to deny the regime the funds it needs to advance its bloody agenda," he said.
"We cannot allow the world's leading sponsor of terrorism to possess the planet's most dangerous weapons," he said. "We cannot allow a regime that chants 'Death to America' and that threatens Israel with annihilation to possess the means to deliver a nuclear warhead to any city on Earth. 
"Just can't do it."
In his address later in the day, Rouhani didn't hold back in responding to Trump, albeit without naming him. 
"It is unfortunate that we are witnessing rulers in the world who think they can secure their interests better — or at least in the short-term ride public sentiments and gain popular support — through the fomenting of extremist nationalism and racism, and though xenophobic tendencies resembling a Nazi disposition, as well as through the trampling of global rules and undermining international institutions; even through preposterous and abnormal acts such as convening a high-level meeting of the Security Council," he said. 
Trump is scheduled to lead a meeting of the Security Council on Iran on Wednesday.
Rouhani went on to accuse the administration of being "determined to render all international instituions effective." He later accused the U.S. of having an "authoritarian" understanding of international relations.
"In its estimation, might makes right. Its understanding of power, not of legal and legitimate authority, is reflected in bullying and imposition. No state and nation can be brought to the negotiating table by force, and if so, what follows is the accumulation in the 'grapes of wrath' of those nations, to be reaped later by the oppressors," he said.
Ahead of the speech, Trump told reporters that he wasn't going to meet with Rouhani "until they change their tune."
"I look forward to having a great relationship with Iran, but it won't happen now," Trump told reporters before his speech. On Wednesday, Trump will chair a meeting of the U.N. Security Council on the issue of Iran.
Earlier in the day, he had tweeted that he had no plans to meet Rouhani, although he added: "I am sure he is an absolutely lovely man!" 
Trump's speech was highly anticipated, coming a year after he made headlines at the 2017 General Assembly by warning "rocket man" Kim Jong Un that the U.S. is prepared to annihilate North Korea.
"Rocket Man is on a suicide mission for himself and his regime," he said at the time. "The U.S. is ready, willing, and able, but hopefully, this will not be necessary." 
Since that speech, Trump and Kim have met in person and relations between the South and North Koreans have thawed. On Tuesday, Trump's rhetoric toward the North Korean regime was much softer, with Trump telling reporters ahead of his speech that "it has been a good relationship" and that there have been no recent nuclear tests from the North Koreans, and noting that the regime had recently returned boxes of remains of American servicemen killed in the Korean War.
"Rockets and missiles are no longer flying in every direction," he said in his speech to the General Assembly, before thanking Kim for his "courage" in coming to the table. But he warned that the sanctions would remain in place until denuclearization occurs.
On Syria, he warned that the U.S. will "respond" if President Bashar Al-Assad uses chemical weapons against his people.
Trump, who has repeatedly expressed skepticism about the U.N., is certain to encounter frostiness from some officials at the gathering of world leaders, who grimace at the administration's "America First" policies, both at home and at the U.N.
When Trump declared in his speech that "in less than two years, we have accomplished more than almost any administration in the history of our country," the claim was met with laughter and gasps from the assembly.
Trump laughed off the reaction and said he "didn't expect that reaction, but OK." Trump later told the assembly that "the U.S. will not tell you how to live, work or worship. We only ask that you honor our sovereignty in return."
In his speech on Tuesday, Secretary General Antonio Guterres took what was likely to be seen as a swipe at Trump's immigration policies when he warned against a "politics of pessimism" and "those who see their neighbors as dangers may cause a threat where there was none."
"Those who close their borders to regular migration only fuel the work of traffickers and those who ignore human rights in combating terrorism tend to breed the very extremism they are trying to end," he said.
French President Emmanuel Macron also appeared to take a shot at Trump in a speech in which he criticized nationalist impulses and a unilateralist approach that he said entails "a certain lawlessness where everyone pursues their own interests."
"I will never stop upholding the principle of sovereignty even in the face of a certain nationalism, which we're seeing today, brandishing sovereignty as a way of attacking others," he said.
http://feeds.foxnews.com/~r/foxnews/politics/~3/JctgafL0xgI/trump-trades-fire-with-iranian-leader-at-un-general-assembly.html