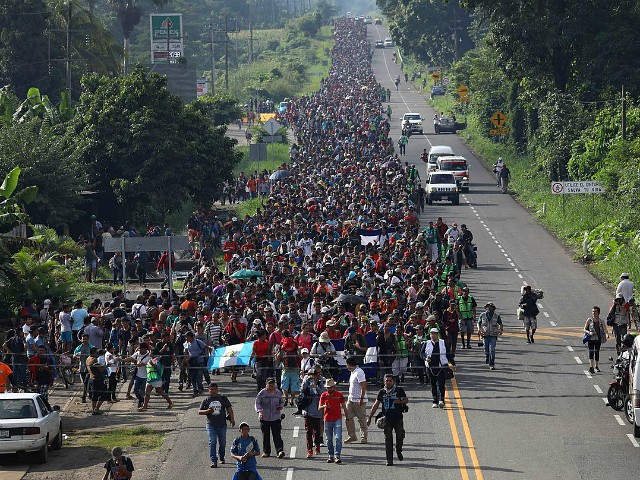 President Donald Trump declared at Wednesday's Florida rally to those seeking to cross illegally into the United States, the U.S. will catch them, but not release anyone into the country.
Trump turned attention toward the caravan of thousands of migrants headed from Central America towards the United States, seeking to illegally cross into America. The rally crowd chanted "build the wall." He recalled caravan migrants who recently forced their way into Mexico, destroying border fences and overpowering Mexican military and police.
Trump said the U.S. is tougher than any force and is, unfortunately, likely be in the face of tough caravan migrants.
"I tell them turn back and they're not going to be released," said Trump. 
"It's called catch, but we take the word release out, we're not going to be releasing anyone," said the president in reference to the "catch and release" practice of catching illegal border crossers and releasing them into the country while they await immigration hearings.
"We have no choice," said the president. "If you want low taxes and low crime, vote Republican."
"This election is truly a choice between results and resistance," president Trump urged. He said those who want high taxes and high crime vote for Democrats.
Michelle Moons is a White House Correspondent for Breitbart News — follow on Twitter @MichelleDiana and Facebook
http://feedproxy.google.com/~r/breitbart/~3/OkY2C5VidIo/