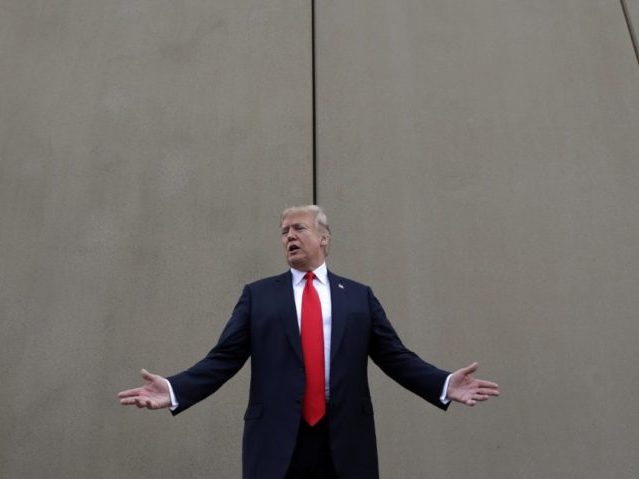 America First Policies (AFP), a leading pro-Donald Trump super PAC, will debut an ad on Monday calling on Congress to fund the border wall along America's southern border.
The ad launching on Monday will cost $500,000 and serves as the second to come from America First Policies this month. Combined the ads will cost $1 million during November.
The newest ad features Michelle Root, an "Angel Mom" whose daughter was killed by an illegal immigrant in the country in a car crash in 2016. Root contends in the ad that the border wall would prevent future loss of American lives while calling on Congress to pass stricter immigration laws.
"My separation is permanent," Root charged. "I want to see that wall built. I want to see stronger immigration laws. Make your voice heard. Call your congressman and your senators."
AFP released an ad on November 5, urging voters to back building a wall ahead of the 2018 midterm elections.
The America First Policies ad arises as Democrats regained control of the House during the 2018 midterm elections.
AFP's ad serves as a siren call to Republicans' current House and Senate majority to partially fund the border wall during the lame-duck Congress. The government will shut down if Congress does not approve a spending bill before December 7.
President Trump wants Congress to approve at least $5 billion in funding for his border wall, while Senate Democrats have signaled that they will offer no more than $1.6 billion.
Trump previously signaled before the 2018 midterms that he wanted to stage a fight over border wall funding in the September spending bill, although he later relented, worrying about the border wall fight's impact on the House Republican majority.
Exit polling for the Federation for American Immigration Reform (FAIR) found that 80 percent of Republican voters and 53 percent of swing voters support President Trump's campaign promise to build a border wall along America's southern border.
Now, President Trump charged in a tweet on Friday that the time is "NOW" to pass a border security bill that will include funding for the wall.
Trump wrote, "After 40 years of talk, it is finally time for action. Fix the Border, for once and for all, NOW!"
On Thanksgiving, Trump told reporters that a partial government shutdown over border wall funding might happen if Democrats refuse to fund his border security proposals.
"The wall is just a part of border security, a very important part, the most important part," Trump continued. "But could there be a shutdown? There certainly could, and it will be about border security."
Republicans and Democrats MUST come together, finally, with a major Border Security package, which will include funding for the Wall. After 40 years of talk, it is finally time for action. Fix the Border, for once and for all, NOW!

— Donald J. Trump (@realDonaldTrump) November 23, 2018
http://feedproxy.google.com/~r/breitbart/~3/DxeLJqYyAWY/