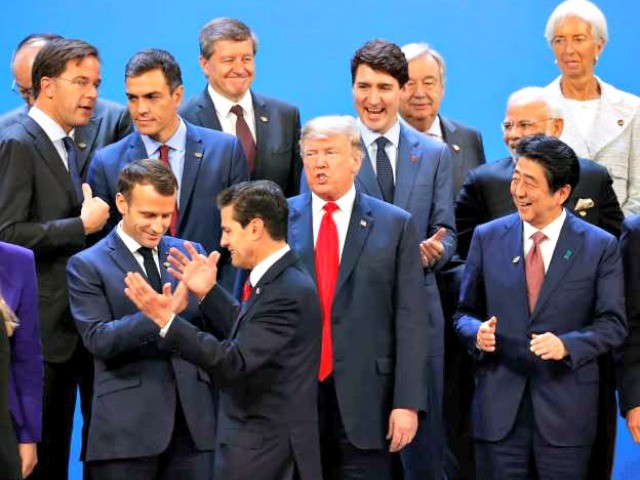 Members of the Group of 20 nations concluded their two-day summit on Saturday, announcing agreement on trade priorities, including reforming the World Trade Organization (WTO).
But only 19 of those nations wanted to confirm their commitment to the Paris climate change agreement, with President Donald Trump sticking by his decision to withdraw the United States from the accord.
The Associated Press (AP) reported on the final statement issued:
The statement acknowledges flaws in the world trading system and calls for reforming the World Trade Organization. It doesn't mention protectionism, however, because negotiators said the U.S. had resisted that.

The statement says 19 of the members reiterated their commitment to the Paris climate accord but the U.S. reiterates its decision to withdraw.

The non-binding agreement was reached after difficult all-night talks by diplomats.
Trump announced his decision in June, saying it is in keeping with his America First agenda.
"In order to fulfill my solemn duty to protect America and its citizens, the United States will withdraw from the Paris Climate Accord," Trump said.
He said his administration would, however, be willing to "begin negotiations to re-enter either the Paris Accord or a really entirely new transaction on terms that are fair to the United States, its businesses, its workers, its people, its taxpayers."
"We will see if we can make a deal that's fair. And if we can, that's great. And if we can't, that's fine," Trump said, adding that he was making what is beneficial to Americans his top priority.
"This includes ending the implementation of the nationally determined contribution and, very importantly, the Green Climate Fund, which is costing the United States a vast fortune," Trump said.
Follow Penny Starr on Twitter
http://feedproxy.google.com/~r/breitbart/~3/HkpblMf_Kjk/