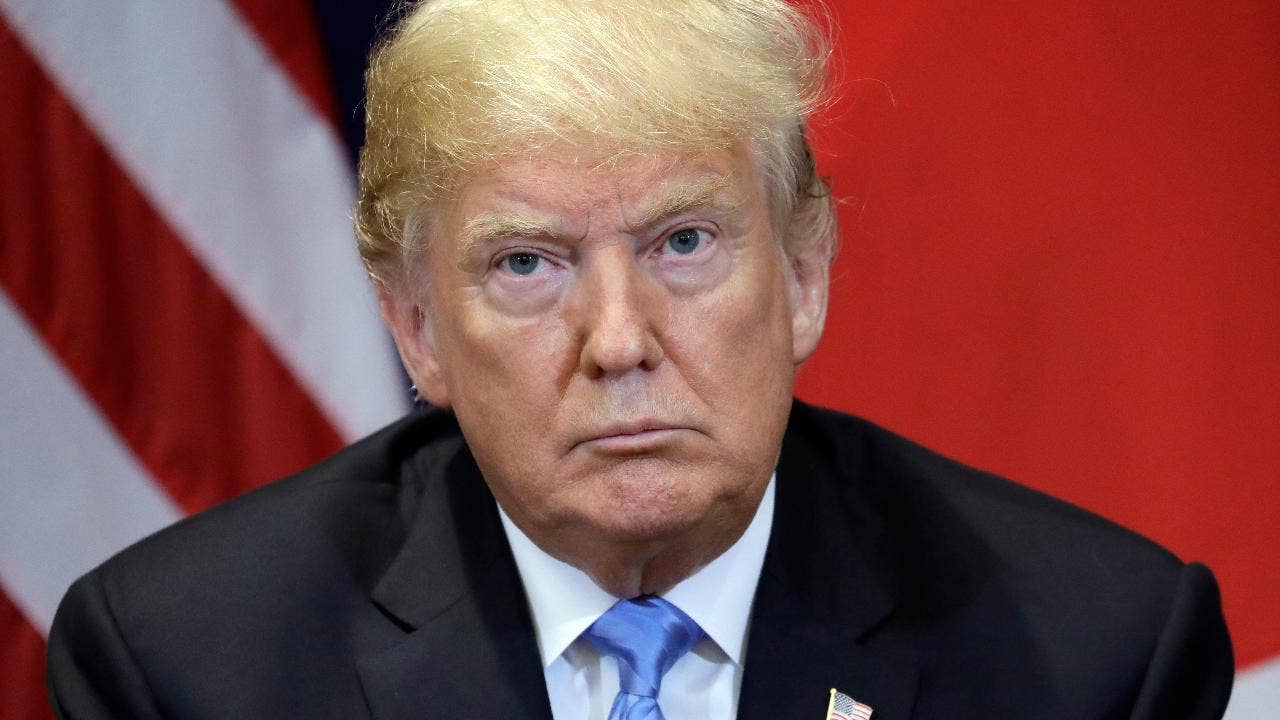 President Trump is expected to address the ongoing controversy surrounding Supreme Court nominee Brett Kavanaugh on Wednesday when he holds his first formal news conference in 19 months.
The president has repeatedly supported Kavanaugh this week as the federal judge has fended off allegations of sexual misconduct involving his days in high school and college.
Earlier Wednesday, Trump expressed frustration with Senate Republicans for delaying a potential vote on Kavanaugh's nomination until one of his accusers, Christine Blasey Ford, could testify before the Senate Judiciary Committee.
"I think the Senate, the Republicans, could not be nicer in the way they're handling this," Trump said as he arrived at the United Nations General Assembly in New York. "They could have pushed it through two and a half weeks ago, and you wouldn't be talking about it right now. Which is frankly what I would have preferred, but they didn't do that."
The president also described Kavanaugh as "an absolute gem"who had been treated "very unfairly by the Democrats, who are playing a con game."
"They know what they're doing. It's a con." Trump added. "They go into a back room and they talk with each other and they laugh at what they're getting away with. It's a con game, and that's what they play. And that's about the only thing they do well."
Later Wednesday, Trump lashed out at attorney Michael Avenatti, who represents a woman who alleges that she witnessed Kavanaugh "engage in excessive drinking and inappropriate contact of a sexual nature with women in the early 1980s." Avenatti's client is the third woman to allege misconduct by Kavanaugh back in his school days.
Trump tweeted that Avenatti "is a third rate lawyer who is good at making false accusations … He is just looking for attention and doesn't want people to look at his past record and relationships – a total low-life!"
Avenatti also represents Stormy Daniels, an adult film actress who says she had sex with Trump years before Trump became president.
The afternoon news conference at New York's Lotte Palace Hotel is also expected to touch on Trump's Tuesday speech at the United Nations General Assembly, as well as the prospects of a second summit between Trump and North Korean leader Kim Jong Un.
On Wednesday, the State Department announced that Secretary of State Mike Pompeo would travel to North Korea next month "to make further progress on the implementation" of agreements made during this past June's summit between Kim and Trump in Singapore.
Pompeo also met Wednesday with North Korean Foreign Minister Ri Yong Ho on the sidelines of the U.N. General Assembly, a meeting the secretary of state described as "very positive."
"Much work remains," Pompeo added, "but we will continue to move forward."
The Associated Press contributed to this report.
http://feeds.foxnews.com/~r/foxnews/politics/~3/K1krb7J0o-M/trump-set-to-speak-on-kavanaugh-un-general-assembly-at-press-conference.html