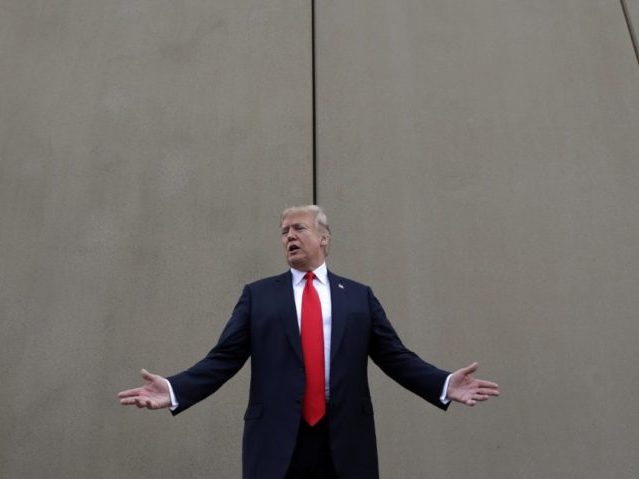 President Donald Trump told reporters that Congress would only approve $1.6 billion for a wall in the pending 2019 budget, dashing hopes that Congress would provide $5 billion for a concrete border-wall in 2019.
"I want borders," he said in a Wednesday afternoon press conference, adding:
We're getting another $1.6 billion in border [funding]. We've spent $3.2 [billion], and we're spending another $1.6 [billion] and then eventually we're getting the whole thing and we'll complete the wall …
Trump's statement reinforces news reports that Trump will approve the GOP leadership's plan to pass a bill funding several agencies this week, and postpone passage of the funding bill for the Department of Homeland Security until after the election.
Conservatives fear Trump will be in a weaker position after the election to pressure Republicans and Senate Democrats to approve his wall-spending plan for 2019. The Washington Post reported:
"I don't think it's a plan that works. I don't see anywhere our leverage is better to get wall funding on December 7 than it is on October 7," said Rep. Mark Meadows (R-N.C.), a leader of the conservative House Freedom Caucus who talks frequently with Trump. "So at some point you have to maintain and keep our campaign promises. And at this point I fail to see the merits of this strategy."
Trump will also have less ability to block a series of donor-backed cheap-labor programs which were added to the House's DHS spending plan by Kansas Rep. Kevin Yoder, who chairs the House appropriations committee which decides DHS spending.
Yoder's draft House bill includes $5 billion for the wall, but the draft Senate DHS bill only offers $1.6 billion for the wall. The 49 Senate Democrats are determined to block any higher level of spending and can use the Senate's 60-vote filibuster rule to block the GOP from allocating more funds for the wall.
Also, many business-first GOP Senators quietly oppose Trump's "big beautiful wall" plans and his "Hire American" immigration reform plans.
The cheap-labor programs in Yoder's House DHS bill are part of his hard-fought "toss-up" race because of public opposition from a group of American technology professionals. Those workers have lost multiple jobs because of the cheap-labor visa-programs that are boosted by Yoder's draft bill.
The boosted programs include the H-1B, H-2A, and H-2B programs.
Yoder's bill likely would add more foreign blue-collar and white-collar workers to the U.S. market, so helping CEOs and investors avoid marketplace pressure for wage raises. Yoder's bill would be a win for business and a loss for Trump who stands to gain in 2018 and 2020 from any rise in salaries and wages.
Yoder's bill also prevents Trump from implementing Attorney General Jeff Sessions' legal reforms that are intended to reduce and block the huge migration of Central Americans into the United States.
However, GOP leaders in the House and Senate may remove Yoder's cheap-labor programs from Yoder's DHS bill before a floor vote in November.
THAT'S IT. TRUMP HAS FAILED TO BUILD HIS WALL. "Trump pledges 'we'll keep the government open' days ahead of shutdown deadline." He's not going to get it after the midterms. https://t.co/7AeojxjNHQ

— Mickey Kaus (@kausmickey) September 26, 2018
http://feedproxy.google.com/~r/breitbart/~3/QQcmS5iqQLc/