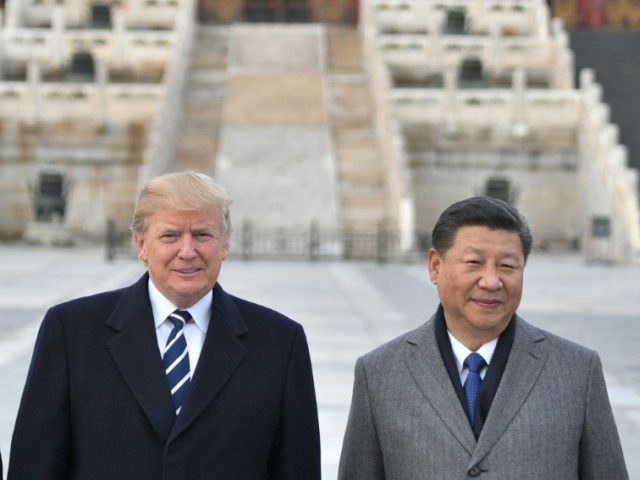 President Donald Trump said on Sunday night that China had agreed to cut its tariffs on American-made autos.
Hours later, however, the Chinese foreign ministry spokesman refused to support Trump's statement. Asked about the alleged changes to auto tariffs, foreign ministry spokesman Greng Shuang declined to comment, according to reports from China.
China has agreed to reduce and remove tariffs on cars coming into China from the U.S. Currently the tariff is 40%.

— Donald J. Trump (@realDonaldTrump) December 3, 2018
The U.S. president's tweet came a day after he had struck a bargain with Chinese dictator Xi Jinping to put trade hostilities on hold for at least 90-days while the two sides negotiate.
China has had a 25 percent tariff on imported cars for years, forcing many foreign automakers to partner with Chinese companies and manufacture autos in China for that market. Some companies, including General Motors, have located manufacturing facilities in China for export to other markets. General Motors manufactures a cross-over SUV in China that it sells in the U.S.
China dropped its general auto tariff to 15 percent this year while raising its tariff on U.S. made vehicles to 40 percent in retaliation for the Trump administration's tariffs. China said last week that the tariff on the U.S. would be 15 percent if not for the U.S. tariffs.
The U.S. charges a much lower tariff on imported cars, just 2.5 percent on cars made outside of North America. Cars made in North America get a zero tariff thanks to the North American Free Trade Agreement, an arrangement set to continue under the U.S. Mexico Canada Agreement signed in Buenos Aires, Argentina over the weekend.
Despite the announcement of a trade truce between the U.S. and China, officials from the two countries have spoken very differently about the details. This raises the possibility that there may be less substance to the agreement, forged over a three hour dinner in Buenos Aires, than initially thought.
http://feedproxy.google.com/~r/breitbart/~3/FAmahfCYrJQ/