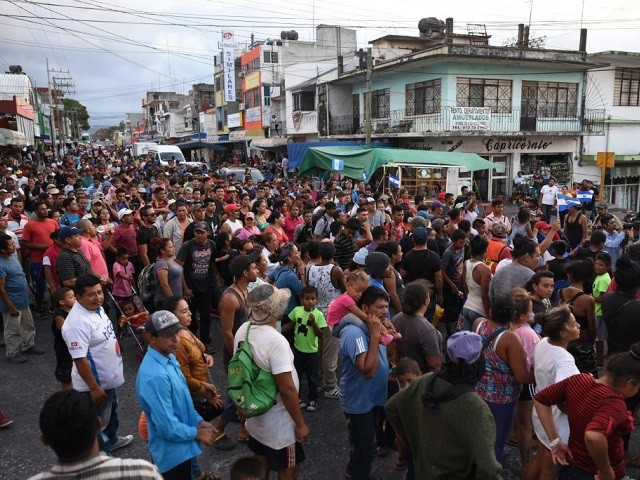 Federal officials will likely reject legal migrants' requests for visas or green cards if they cannot speak English, says a draft regulation from President Donald Trump's Department of Homeland Security.
"English language proficiency is a skill that also is relevant in determining whether an alien is likely to become a public charge in the future," says the draft "public charge" regulation. The regulation is intended to help officials exclude migrants who will likely rely on American taxpayers for their health care, welfare, housing, and wages.
The draft regulation says:
People with the lowest English speaking ability tend to have the lowest employment rate, lowest rate of full-time employment, and lowest median earnings. According to U.S. Census Bureau data, people who spoke a language other than English at home were less likely to be employed, and less likely to find full-time work when employed. In a 2005 study, "on average, workers who spoke only English earned $5,600 more than people who spoke another language."
People who cannot speak English are also more likely to rely on welfare, the draft says:
data indicate that the rate of coverage of non-cash benefits among those who spoke English either well or very well (about 15 to 20 percent) was significantly lower than the rate among those who either spoke English poorly or not at all (about 25 to 30 percent)
The new regulation was posted just after a report showed that an increasing diversity of languages are being imposed on Americans by the government's mass-immigration policy. Breitbart reported:
Nearly half of residents in America's top five largest cities speak a foreign language at home, a new study by the Center for Immigration Studies reveals.

Researchers Steven Camarotta and Karen Zeigler analyzed data from the Census Bureau, finding that more than 48 percent of residents in America's largest cities — New York City, Houston, Los Angeles, Chicago, and Phoenix — speak a foreign language in the home instead of speaking English.

In Los Angeles, California, nearly 60 percent of residents speak a foreign language at home, while 49 percent speak a foreign language at home in New York City and Houston. In Chicago, about 36 percent of residents speak a foreign language at home and in Phoenix, about 38 percent speak a foreign language at home.
The emphasis on English is one of several criteria for officials to consider when foreigners ask to immigrate into the United States. Other factors include job skills, health, and age. For example, older, unskilled and unhealthy immigrants will generate few taxes but may cost taxpayers a fortune in pensions, health care, and subsidized rentals.
Business and Democratic groups oppose the new regulation, in part, because welfare and healthcare spending on legal immigrants also flows to business groups, and because legal immigrants vote for Democrats. On Sept. 25, for example, Democratic activists in New York registered a naturalized, retired Ecuadorean migrant who does not speak English:
Imelda, 76-year-old immigrant from Ecuador who became a U.S. citizen in June w/ help from our amazing naturalization team, has come today to register to vote for the first time! #NationalVoterRegistrationDay pic.twitter.com/H6qvjT5wWX

— Make the Road NY (@MaketheRoadNY) September 25, 2018
The agency's statement says:
DHS is proposing to consider current and past receipt of designated public benefits above certain thresholds as a heavily weighed negative factor.  The rule would also make nonimmigrants who receive or are likely to receive designated public benefits above the designated threshold generally ineligible for change of status and extension of stay.

The public benefits proposed to be designated in this rule are federal, state, local, or tribal cash assistance for income maintenance, Temporary Assistance for Needy Families (TANF), Supplemental Security Income (SSI), Medicaid (with limited exceptions for Medicaid benefits paid for an "emergency medical condition," and for certain disability services related to education), Medicare Part D Low Income Subsidy, the Supplemental Nutrition Assistance Program (SNAP, or food stamps), institutionalization for long-term care at government expense, Section 8 Housing Choice Voucher Program, Section 8 Project-Based Rental Assistance, and Public Housing.
The phrase "heavily weighed negative factor" implies that most — but not all — poor, sick and unskilled applicants will not be given residency.
The regulation does not count taxpayer aid related to the Affordable Care Act or the Children's Health Insurance Program, and it excludes taxpayers' rebates under the Earned Income Tax Credit. The rule also allows would-be immigrants to receive a small amount of aid, or roughly $3,765 for a family of four, or a $1,821 for a single person.
Four million young Americans will join the workforce this year, but the federal government will also import 1.1 million legal immigrants, and allow an army of at least 2 million white-collar and blue-collar visa-workers to work U.S. jobs, alongside additional asylum-claiming migrants and at least 8 million illegal migrants.
Overall, the Washington-imposed economic policy of economic growth via immigration shifts wealth from young people towards older people by flooding the market with cheap white-collar and blue-collar foreign labor.
That flood of outside labor spikes profits and Wall Street values by cutting salaries for manual and skilled labor offered by blue-collar and white-collar employees.
The policy also drives up real estate prices, widens wealth-gaps, reduces high-tech investment, increases state and local tax burdens, hurts kids' schools and college education, pushes Americans away from high-tech careers, and sidelines at least 5 million marginalized Americans and their families, including many who are now struggling with opioid addictions. Immigration also pulls investment and wealth away from heartland states because investment flows towards the large immigrant populations living in the coastal states.
http://feedproxy.google.com/~r/breitbart/~3/CEJpmnd4ybo/