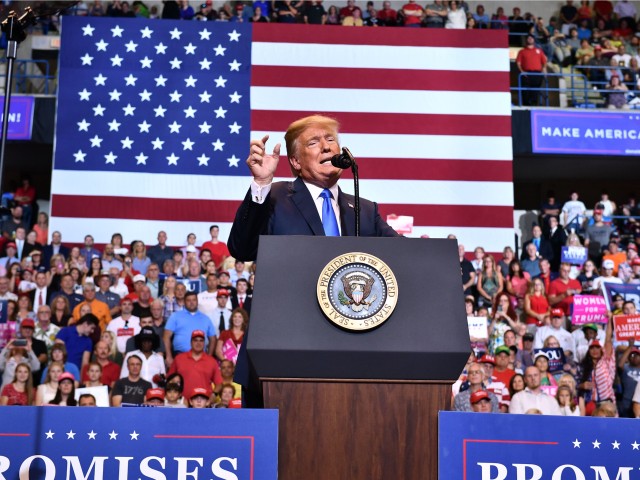 President Donald Trump urged supporters Monday morning that while there has been a historic turnaround for the United States under his administration, "it's all fragile," and they must get people out to vote.
Trump supporters from around the country joined the president and top Trump team figures on a "Lead One Vote to Victory Telephone Town Hall" conference call Monday.
The president pointed to what he called perhaps the finest economy America has ever seen, posting massive October jobs numbers despite multiple bad hurricanes. "They're only going to get better," he said of the economic numbers. "We have a tremendous opportunity to make things even better."
Numbers will only get better, according to Trump, who remarked that he came into office during the weakest economic recovery since the Great Depression. He said the country is turning around rapidly and will have many quarters like the one that delivered 4.2 percent GDP growth under his presidency.
Trump said had his opponents in 2016 won, the economy could have, instead, been down 4.2 percent. He added that one element of surprise people have seen is the rapid pace of regulatory cuts, which have had a massive impact on the U.S. economy.
"Our economy is beginning to sing," said Trump, who also highlighted massive trade deals: the USMCA with Canada and Mexico and KORUS with South Korea. He added that the U.S. is "now winning the war with China" in the midst of a bad trade dispute with them. 
"The potential is tremendous unless we don't do well in the election," said Trump. "The election tomorrow is very vital because it really is summing up what we've done." He added that the media are playing it as a referendum on his administration, saying if Republicans lose, the press will play it as the end of the world, and if Republicans win, they will not give them any credit.
He said the economy, people, and health care will give the Trump administration credit if Republicans win, even if the press will not. He pointed to his administration's work to lower prescription drug prices, implementing "Right to Try" legislation and bringing accountability to the VA system.
"But it's all fragile," President Trump warned supporters on the phone, "We have to get out, and we have to vote." He said that though he is not directly on the ballot, "in a certain way, [they] are."
"We probably will do pretty well based on all of the numbers we're looking at now because we're seeing an energy people haven't seen since the last election in '16," said Trump. "We have an energy over the last couple of weeks that people have not seen in the Republican Party, and it feels very much like '16 because they love what we've done, and they want to keep it going."
He urged the importance of keeping the Senate and House in Republican control. He said if that happens, "it's going to really send a great signal."
"Whatever you can do to ensure victory tomorrow, get out and vote, get your family, get your friends, get everybody to get out and vote," he told the supporters on the line. "So important," he emphasized, reminding them he will be holding three rallies later in the day.
"Everything I told you about, it can be undone and changed by the Democrats if they get in," Trump warned. "You see how they've behaved. You see what's happening with them; they've really become radicalized." He gave a final push, asking supporters to do whatever they can to get out the vote for Republicans and support his administration.
Michelle Moons is a White House Correspondent for Breitbart News — follow on Twitter @MichelleDiana and Facebook.
http://feedproxy.google.com/~r/breitbart/~3/HVdbycV5HUE/