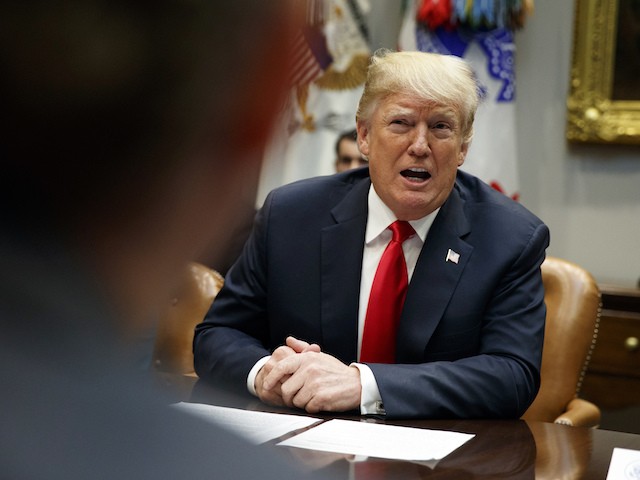 President Donald Trump is promising new action by agencies on immigration, amid determined bipartisan opposition on Capitol Hill to his low-immigration/high-wage polcies.
Trump told TheHill.com:
"I'll be doing things over the next two weeks having to do with immigration, which I think you'll be very impressed at," the president said during an exclusive 45-minute Oval Office interview on Tuesday with Hill.TV.

He declined to say what the impending action might be. Several senior aides told Hill.TV that they didn't know what the president intends to do.
Trump's immigration reforms are being blocked in the Senate and House, and his push for $5 billion in wall funding has been stopped by the GOP leadership. The funding bill for the Department of Homeland Security has been punted until December and is being combined with several cheap-labor programs, including a plan to quickly convert 300,000 Indian white-collar workers and their 300,000 family members into immigrants. The plan will further flood the white-collar labor market and force down salaries or college-graduate Americans.
"There is a list of things he could do in the next two week that would be helpful," said Jessica Vaughan, policy director at the Center for Immigration Studies. She continued:
Worksite enforcement, sending out Social Security no-match letters to crack down on illegal workers. He could end the H4 work permit which would be very helpful for Americans looking for job opportunities [likely including college-graduate jobs]. He could be pushing Members of Congress to enact a spending bill that will cover the wall and resources for [Immigration and Customs Enforcement], [Customs and Border Protection], and [Citizenship and Immigration Services]. He could move forward on other reforms to guest-worker programs that protect Americans' jobs.
Trump can also use his power over the agencies to help nudge wages up before the 2018 and 2020 elections, she said.
The reforms that have happened are helping wages and they need to be sustained … They have to be sustained because if he gives in to employers [who are demanding more foreign workers], he will lose the progress that has been made. He should not be scared off by pressure from employers who are no longer going to be able to bypass U.S. workers and who will be forced to increase wages.

We are going into an election that is critical for Republican control of Congress, and it is not going to help Republicans if there are more jobs for guest-workers because that does not benefit Americans who are going to vote. Higher wages are going to keep people motivated to support the President's agenda and [also] to keep after members of Congress to support the President's agenda.
Trump's deputies — led by Attorney General Jeff Sessions — are already using their bureaucratic authority to upgrade the nation's curbs on illegal immigration.
Other deputies are also drafting changes to various middle-class outsourcing programs. For example, USCIS is drafting a plan that would curb the huge H-1B program which keeps roughly 700,000 college-graduates in U.S. jobs. USCIS is also expected to revoke a legally unfounded decision to award H4 work permits to roughly 100,000 spouses of H-1B workers.
DHS officials are also working with officials at the Department of Health and Human Services to end the Obama-era policy of delivering "Unaccompanied Alien Children" from the border to their illegal-immigrant parents living in the United States, gratis.
http://feedproxy.google.com/~r/breitbart/~3/NnPy7tgl_KY/