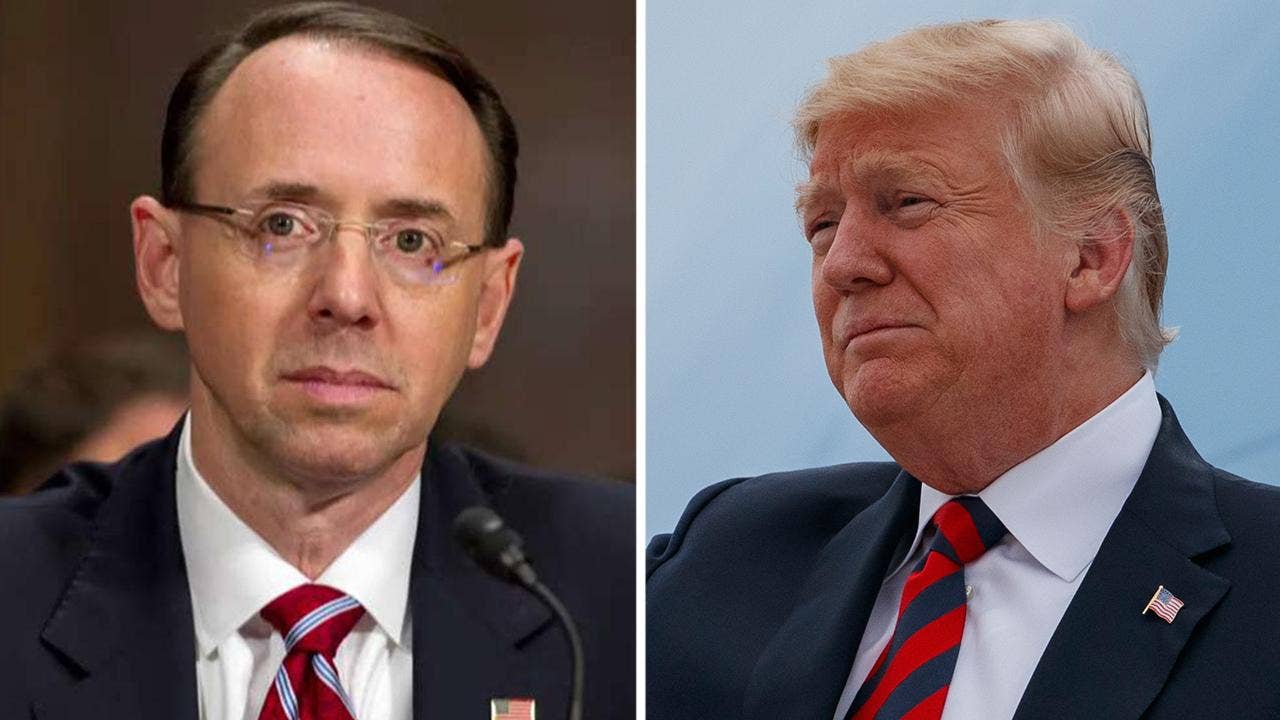 President Trump has postponed his planned Thursday meeting with Deputy Attorney General Rod Rosenstein, with the White House saying he did not want to "interfere" with the hearing on Supreme Court nominee Brett Kavanaugh.
"The President spoke with Rod Rosenstein a few minutes ago and they plan to meet next week," White House Press Secretary Sarah Sanders said Thursday. "They do not want to do anything to interfere with the hearing." 
Trump had been scheduled to meet with Rosenstein at the White House to discuss the explosive New York Times report claiming Rosenstein suggested wearing a "wire" against Trump and invoking the 25th Amendment to remove him from office last year. 
A Justice Department spokesperson confirmed that the meeting between Trump and Rosenstein was pushed to next week.
The No. 2 Justice official, who frequently finds himself in the political crosshairs due to his role overseeing Special Counsel Robert Mueller's investigation into Russian meddling and potential collusion with Trump campaign associates in the 2016 presidential election, was the subject of conflicting reports on Monday. The reports at first suggested that he had resigned. Sources then said he expected to be fired. In the end, he and Trump spoke by phone and scheduled the meeting for Thursday, which has now been pushed back. 
His job may be safe for now. 
On Wednesday, Trump held a press conference in New York City on the sidelines of the United Nations General Assembly, where he addressed Rosenstein's future.
Trump said he'd "certainly prefer not" to fire Rosenstein, hinting he could delay Thursday's meeting.
"I'm talking to [Rosenstein], we've had a good talk," Trump said, referring to their discussions about the "wire" report. "He said he never said it. He said he doesn't believe it. He said he has a lot of respect for me. He's very nice, and we'll see."
Trump added: "I don't want to do anything that gets in the way of this very important Supreme Court pick. I don't want to do anything that's going to conflict with that."
Trump said his "preference would be to keep him, to let him finish up" the Russia investigation.
Meanwhile, on Capitol Hill Thursday, Dr. Christine Blasey Ford, who alleges Kavanaugh pinned her down and tried to remove her clothing 36 years ago, testified before the Senate Judiciary Committee. Kavanaugh is expected to testify later Thursday.
Fox News' John Roberts, Jake Gibson and Nicole Darrah contributed to this report. 
http://feeds.foxnews.com/~r/foxnews/politics/~3/yYbJaZhh6qo/trump-postpones-meeting-with-rosenstein-to-next-week.html