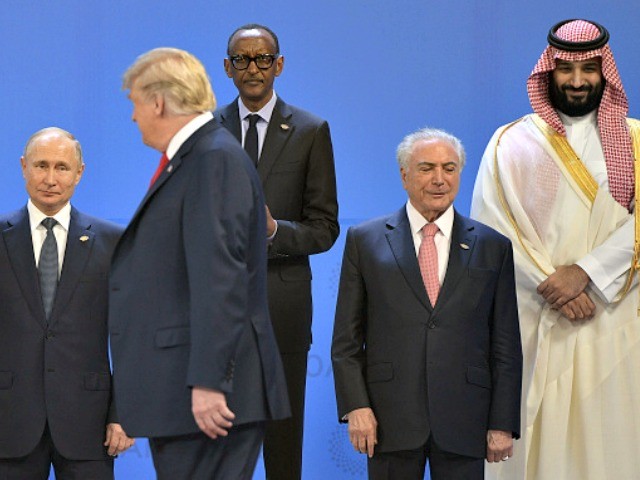 President Trump has played it cool with Saudi Crown Prince Mohammed Bin Salman and Russian President Vladimir Putin so far at the G-20 summit in Buenos Aires, Argentina.
With leaders' behaviors under a microscope at the international meeting, Trump has so far kept his distance from the prince, commonly referred to as "MBS," as well as Putin.
While Putin and MBS made headlines by exchanging glowing smiles and enthusiastic handshakes, Trump has avoided those optics.
Russian President Vladimir Putin and Saudi Crown Prince Mohammed bin Salman at #G20Summit pic.twitter.com/AzvHXg2oWX

— CSPAN (@cspan) November 30, 2018
During a family photo, Trump walked past both MBS and Putin without stopping or shaking hands.
So far, one picture of Trump and MBS has been circulating so far, of Trump and his daughter and adviser Ivanka Trump looking sternly at the crown prince, whose expression cannot be seen. Only Treasury Secretary Steven Mnunchin is smiling at MBS.
President Trump speaking to Saudi Crown Prince MBS while at the G20. pic.twitter.com/tTY4sohjDH

— Allie Malloy (@AlliemalCNN) November 30, 2018
A White House official said on background, "They exchanged pleasantries at the leaders session as he did with nearly every leader in attendance."
Trump has so far also avoided photo-ops with Putin.
Asked whether he would exchange pleasantries with Putin, Trump told reporters: "I don't know…Not particularly. I don't know."
Friendly appearances with either MBS or Putin is fraught with risk of bad publicity for Trump, with the president's critics poised to pounce on any misstep.
American public opinion has soured somewhat after the Saudi government took responsibility for killing Saudi dissident and Washington Post columnist Jamal Khashoggi in their embassy in Istanbul, Turkey.
Trump could also be avoiding public appearances with Putin, given a Buzzfeed report this week that said former Trump lawyer lied about when he stopped pursuing a Moscow Trump Tower. Cohen said he lied to investigators when he told them the discussions stopped January 2016, when they really stopped in June 2016.
A Trump meeting with Putin was canceled, allegedly over the Russian capture of Ukrainian sailors on Sunday.
Instead, White House Press Secretary Sarah Sanders tweeted out more positive optics — photos of Trump with more popular foreign leaders, including G-20 host and Argentinian President Mauricio Macri, Indian Prime Minister Narendra Modi, Japanese Prime Minister Shinzo Abe, and South Korean President Moon Jae-In:
Very busy and productive first day at the G20 where President @realDonaldTrump met with a number of world leaders – their discussions included trade, security, and economic prosperity. pic.twitter.com/7DDtR5DEvn

— Sarah Sanders (@PressSec) November 30, 2018
http://feedproxy.google.com/~r/breitbart/~3/A9eLXOKKEQA/