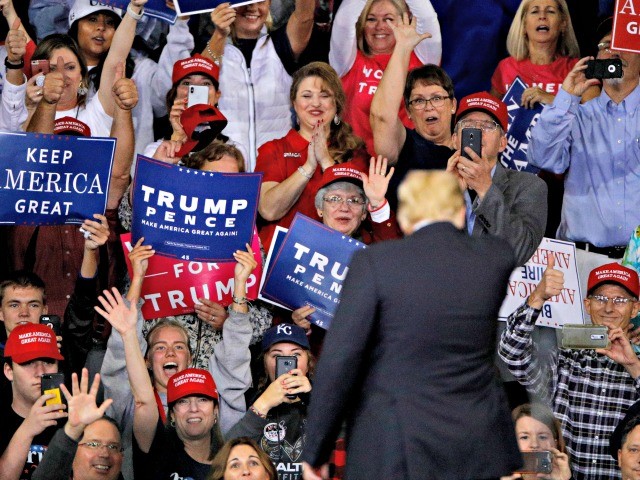 President Donald Trump announced at a Kansas rally Saturday night that there would be a Monday night swearing-in ceremony for soon-to-be Justice Brett Kavanaugh.
"This is a historic night," Trump told the Topeka crowd, reminding them that they have the opportunity to render a verdict on the Democrats' conduct when they vote in November. He would go on to say, "You don't hand matches to an arsonist and you don't give power to an angry left-wing mob and that's what they've become."
"I stand before you today on the heels of a tremendous victory for our nation, our people, and our beloved Constitution," the president told the crowd.
He continued:
Just a few hours ago the U.S. senate confirmed Judge Brett Kavanaugh to the United States Supreme Court. And I proudly singed the Judge's commission aboard Air Force One just before landing. And this Monday night at 7 p.m. in the East Room of the White House we will perform the swearing in ceremony for soon-to-be Justice Kavanaugh. Great man.

And he will sit proudly alongside Justice Neil Gorsuch who's doing a great job to uphold your sacred rights and to uphold your God-given freedom.

And I want to thank our incredible Republican Senators for refusing to back down in the face of the Democrats shameless campaign of political and personal destruction. 

Since the moment Brett Kavanaugh was announced…radical Democrats launched a disgraceful campaign to resist, obstruct, delay, demolish, and destroy. Right from the beginning. 

Brett Kavanaugh is a man of great character and intellect. He's a totally brilliant scholar who has devoted his life to the law. He is a loving husband, a devoted father, and a faithful public servant and he always has been.
What he and his wonderful family endured at the hands of Democrats is unthinkable. … In their quest for power the radical Democrats have turned into an angry mob. You saw that today with the screaming and the shouting. Not from the 200 people or less that," Trump said stopping to remark that the number paled in comparison to the large crowd of rally goers gathered before him in Kansas. "They threw away and threw aside every notion of fairness, of justice, of decency, and of due process."
"But each of you will have a chance in just four weeks to render your verdict on the Democrats' conduct, at the ballot box. Gotta vote," said Trump. "On November 6 you will have the chance to stop the radical Democrats, and that's what they've become, by electing a Republican House and a Republican Senate. We will increase our majorities. We need more Republicans."
"We have been energized," said Trump. "If Democrats are willing to cause such destruction in the pursuit of power, just imagine the devastation they would cause if they ever obtained the power they so desperately want and grab."
President Trump suggested that three, even four more Supreme Court justice positions could be filled in the not-too-distant future. "If you allow the wrong people to get into office, things could change. They could change and they could change fast and we're not gonna let that happen. We can't let that happen."
Trump added, "The Democrats have become too extreme and too dangerous to govern. Republicans believe in the rule of law, not the rule of the mob."
Michelle Moons is a White House Correspondent for Breitbart News — follow on Twitter @MichelleDiana and Facebook
http://feedproxy.google.com/~r/breitbart/~3/aOMhAp4nKE0/