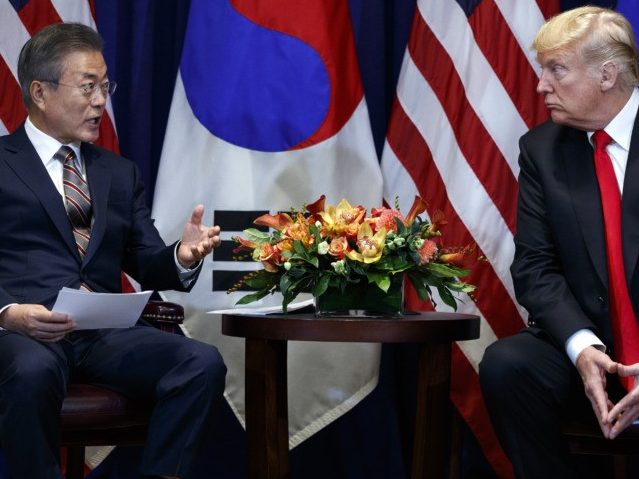 South Korean President Moon Jae-in arrived in New York on Sunday to attend the U.N. General Assembly and hold a bilateral summit meeting with U.S. President Donald Trump.
Moon is eager to set up a second meeting between Trump and North Korean dictator Kim Jong-un. President Trump indicated on Monday such a meeting could occur "quite soon."
Moon met with Kim Jong-un in Pyongyang last week and said the North Korean dictator remains committed to denuclearization and better relations with the outside world.
"Chairman Kim expressed his wish to finish complete denuclearization at an early date and focus on economic development," Moon said when he arrived in New York.
Moon expressed his support for signing a formal peace treaty to end the Korean War, which was suspended with an armistice in 1953. Although there are concerns North Korea would take advantage of a peace treaty to weaken sanctions or demand the removal of U.S. troops from the Korean peninsula, Moon said it would be merely a "political declaration" that hostilities between the two Koreas have conclusively ended.
Moon conveyed a message from Kim to President Trump at the U.N., saying, "You are the only person who can solve this problem."
Trump said he looked forward to meeting with Kim again in the "not-too-distant future," but added the United States is in "no rush" to lift sanctions until North Korea fully denuclearizes.
Trump and Moon signed a trade agreement on Monday hailed by the U.S. president as a "very big deal" that would significantly reduce the U.S. trade deficit with South Korea.
"In addition to this deal, we have many other deals in the works – reciprocal deals," Trump said.
President Moon is pushing the North Korea process a little faster than the United States is willing to go, particularly given the enormous international pressure to keep the sanctions regime in place. Even at the height of the international community's disgust with North Korea's nuclear program, it was not possible to keep countries like China and Russia from cheating on the sanctions they ostensibly supported.
Appearing on NBC News' Meet the Press on Sunday, Secretary of State Mike Pompeo said President Trump is "prepared to meet with Chairman Kim at the right time," and hoped the right time would arrive "in the not-too-distant future," but indicated the administration remains skeptical of North Korea's intentions.
"We have our eyes wide open. There is a long way to go to get Chairman Kim to live up to the commitment that he made to President Trump and, indeed, to the demands of the world in the U.N. Security Council resolutions to get him to fully denuclearize," said Pompeo.
Speaking from the U.N. on Monday, Pompeo supported President Trump's desire to hold another meeting with Kim Jong-un even though North Korea has taken few solid steps toward denuclearization. The secretary endorsed the idea of bringing together "the two senior leaders, the individuals who can actually make the decisions that will move this process forward."
http://feedproxy.google.com/~r/breitbart/~3/FdvN07PNtwU/