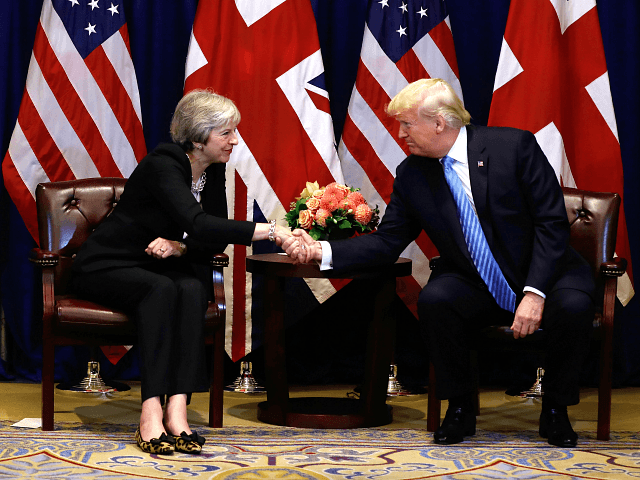 Prime Minister Theresa May and President Donald Trump discussed a "big and ambitious" trade deal at the United Nations, but the positive work may have been undercut by the British leader's decision to criticise U.S. policy towards the Iranian regime.
"It's my great honour to be here with Prime Minister Theresa May," the President told assembled members of the press.
"We spent a lot of time together on my last trip to the UK and I think that's where we can say we got to know each other… Every meeting became better and better," he added.
"I will say that we are talking about a lot of different things today – trade, military, security, protection all sorts of things. We have a myriad of things to talk about."
Mrs May added that an "ambitious and wide-ranging trade deal" was a particular focus of their discussions.
"They agreed that Brexit provides a wonderful opportunity to strike a big and ambitious UK-US Free Trade Agreement," a British official confirmed after the meeting.
President Trump and Prime Minister Theresa May met for a bilateral meeting in New York 🇺🇸 pic.twitter.com/VdJztUmD9T

— The White House (@WhiteHouse) September 26, 2018
The European Union controls its member-states' external trade policy through its Customs Union and Common External Tariff, and has long neglected to strike agreements with key British allies such as the United States, Australia, and New Zealand — with eurosceptics alleging that the Franco-German bloc within the EU would not appreciate the competition with American manufacturers and Antipodean farmers.
Despite having to trade with the U.S. on 'no deal' terms, however, the Atlantic superpower has long been Britain's number one trade and investment partner, as a country, and the prospect of a supercharged British-American trade agreement has long been touted as a key prize after Britain finally exits the European Union.
The Trump administration, despite its criticism of the impact on American workers of unrestricted trade with countries such as Mexico and the People's Republic of China, has been extremely positive on doing a "very big, very powerful" trade with the United Kingdom, as another advanced democracy with decent standards for its workers.
Stop 'Defeatist' Brexit Attitude and Take 'Inspiration' from Trump, Says U.S. Ambassador https://t.co/0xMleYJC4c

— Breitbart London (@BreitbartLondon) June 22, 2018
However, despite the Trump administration's keenness to extend the hand of friendship towards Brexit Britain, the Prime Minister (who campaigned to stay in the European Union in 2016) has consistently undermined the British-American relationship by siding with the so-called international community and its 'international rules-based order' against the U.S. President — to little apparent effect, given her "humiliating" treatment by European leaders in Salzburg recently.
This pattern was repeated by Mrs May at the United Nations, where she stood by the deal with Iran's theocratic dictatorship which President Trump has repudiated, claiming that it "remains the best means of preventing Iran developing a nuclear weapon".
But the U.S. leader — despite frequent accusations he is unable to exercise diplomatic restraint in the mainstream media — appears to have taken the Prime Minister's latest dig with remarkable forbearance, and even praised her at the one-to-one meeting.
Follow Jack Montgomery on Twitter:

 @JackBMontgomery
Follow Breitbart London on Facebook:

 Breitbart London
http://feedproxy.google.com/~r/breitbart/~3/UudQsUj0p68/