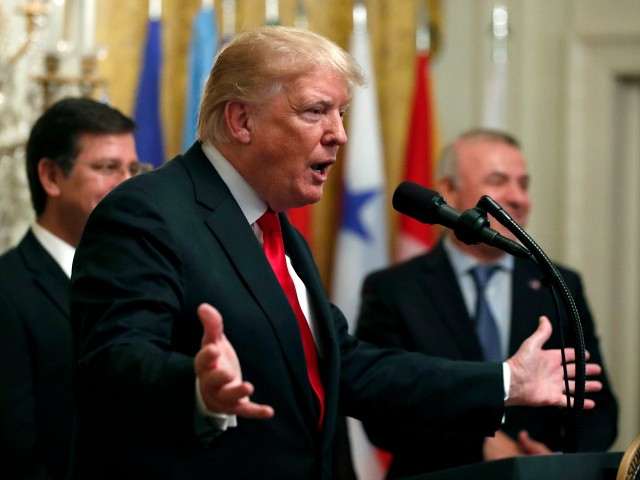 President Donald Trump hosted hundreds at the White House Monday for a Hispanic Heritage Month event highlighting several Hispanic business owners and the historic economic accomplishments for Hispanic-Americans under his administration.
Participants who gathered in the White House East Room included business, faith, community, and local elected leaders from across the U.S., according to the White House.
Vietnam Veteran Daniel Cortez opened the event with the National Anthem, something President Trump acknowledged at the top of the event.
One participant yelled out, "we're blessed because you're our president." The enthusiastic audience began chanting, "four more years."
Trump acknowledged the attendance of Sec. Alex Acosta, U.S. Treasurer Jovita Carranza, New Mexico Gov. Susana Martinez, and Puerto Rico Lieutenant Gov. Luis Marin. Trump thanked Marin for his efforts in the aftermath of Hurricane Maria in 2017. "We are helping them to rebuild stronger and better than ever before," said Trump.
Trump then said his administration will do whatever it takes to ensure the safety of people in the aftermath of Hurricane Florence. 
He said Hispanic-Americans "inspire our entire nation" and thanked all of those who served in the U.S. armed forces. "We are rebuilding our military," he added, noting the military pay raises. The president thanked the 1.5 million Hispanic military veterans.
He said the tax and regulation cuts have delivered great results for Hispanic-Americans. "Now we have the best economy in the history of our country," said Trump, noting the all-time low unemployment rate for Hispanic-Americans. He added that household income has increased the fastest for Hispanic-Americans.
"Nearly 350,00 Hispanics were lifted out of poverty in 2017," said Trump. He said nearly 40 percent of the reduction in U.S. poverty is attributable to Hispanic-Americans and Hispanic home and business ownership is soaring.
Business owner Irina Vilariño told the story of her family and opening the business Las Vegas Cuban Cuisine in south Florida. "We must keep America great," she told the crowd, heralding the tax plan and other achievements of the Trump administration. She closed her remarks saying it was "truly an honor."
Sonic Burger franchises owner Joel Garza then took the stage, thanking Trump and the Hispanics that work every day to make America great. He spoke of creating new jobs in the Houston area. He credited Trump for helping them have access to capital. He also thanked his wife and said she had been with him since day one when things were not easy. 
"Hispanic owned businesses are leading the way," said Trump. He said their efforts are "unlocking the American dream for citizens across the land." He said they were there to celebrate their great leaders and the many people from many different backgrounds and ways of life.
Trump said in closing, "We are all one people, we are all part of one great, American family … singing one anthem and pledging allegiance to one nation under God."
Michelle Moons is a White House Correspondent for Breitbart News — follow on Twitter @MichelleDiana and Facebook.
http://feedproxy.google.com/~r/breitbart/~3/ZMIeAjcxTyU/