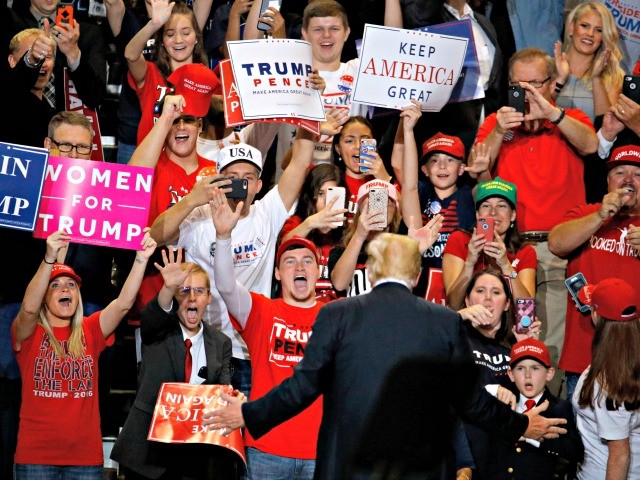 President Trump delivered a rousing appeal to his supporters to get-out-the-vote for Republican candidates at a rally in Springfield, Missouri on Friday night in support of Missouri Attorney General Josh Hawley, the GOP nominee for the U.S. Senate seat on the ballot this November.
The president also strongly supported Judge Brett Kavanaugh, his nominee to serve on the Supreme Court.
"We have to fight for him, not worry about the other side," the president said he told a Republican senator in Washington of Kavanaugh.
He also aggressively attacked the platform of the Democrat party.
"The new platform of the Democrat party is radical socialism and open borders. A vote for any Democrat this November is a vote for massive regulation, massive taxes, and massive crime," Trump told the large and enthusiastic crowd.
"The Democrat party is held hostage by angry mobs, 'Deep State' radicals and their establishment cronies," the president continued.
"We're going to be fighting [in 2018] to keep what we have," he added.
"You can't be complacent" he told the crowd about the 2018 midterm elections.
"Get out in 2018, because you're voting for me in 2018," the president said.
The current Real Clear Politics Average of Polls shows Hawley and incumbent Sen. Claire McCaskill (D-MO) are statistically tied in a state the president won by 19 percent in 2016.
With 46 days until the election, absentee ballot voting (both by mail and in-person) begins in Missouri just four days from Friday, and the stakes in the race could not be higher. Republicans hold a slender 51 to 49 majority in the Senate, and, though the electoral map does not favor Democrats this cycle, they could regain a majority in the upper chamber of Congress with a net pick-up of two seats.
Missouri is one of many states where incumbent Democrat senators must hold on in order for the party to accomplish that two-seat net gain. Some optimistic Democrats are eyeing Arizona and Tennessee, which the Cook Political Report currently rate as "toss-ups," as potential Democrat Senate seat flips.
The enthused and energetic crowd cheered throughout the entire rendition of Lee Greenwood's "God Bless the USA" as Trump entered the hall.
As President Trump stepped to the podium, the crowd broke into chants of "USA! USA! USA!"
Trump immediately blasted McCaskill and praised Hawley, her Republican opponent.
"McCaskill voted for the liberal Obama judges who want to destroy your 2nd amendment. They want to destroy your health care, they want to destroy your wealth. They all as a group, they want to raise the hell out of your taxes," he added.
"She reveals her true colors when she pretended to tour the state in an RV when she was actually flying around the state in her luxurious private airplane," Trump said of McCaskill.
"McCaskill doesn't represent the people of Missouri, she represents the radical Democrats in Washington, D.C. who are trying to take over. … Claire McCaskill voted no on tax cuts. And that's tax cuts for the middle class families," the president pointed out.
Trump continued to run down a long list of bad votes by McCaskill.
"McCaskill voted no on Kate's Law. How do you vote no on Kate's Law? You know why?  Because Schumer and Pelosi told her," the president said.
"And she voted no on enhanced vetting for refugees. She wants to let everybody pour into our country. She wants to give them free health care … McCaskill voted no on our new Supreme Court justice Neil Gorsich. How good is he?" the president asked rhetorically.
"We need Josh. … We have to fight for him," Trump said of Hawley.
"Please welcome a special man, a special talent … the next United State Senator from Missouri, Josh Hawley," the president said as he introduced Hawley.
"How about the leadership of President Donald J. Trump?" Hawley asked, as the crowd responded with loud cheers.
"We had to turn away about 20,000 people who couldn't get into the stadium," Hawley told the audience.
Other press reports indicated the line to get into the 11,000 capacity stadium extended for as long as two miles.
"Have you noticed something about our president? When he makes a promise he keeps it. When he makes a commitment he delivers. He's delivering big for the state of Missouri and the United States of America," Hawley said.
The GOP candidate for Senate then turned his attention to the current confirmation battle for Supreme Court nominee Brett Kavanaugh.
"The president said he's going to put pro-Constitution judges on the bench and he has. Judges who love the Constitution. Judges who love our country. Judges like Brett Kavanaugh," Hawley said.
"There's somebody in the state of Missouri who hasn't heard what you've been telling her. There's somebody who hasn't been willing to work with the president. That somebody is Claire McCaskill," he added.
"She said she's going to vote no on Judge Kavanaugh," Hawley said.
"I'm not sure who she's with, but she's not with the state of Missouri. … This November in this state, let's make history again, let's make America great again," he concluded, turning the podium back to the president.
"Josh is a star. He's one hundred percent pro 2nd amendment. We need Josh in the Senate to fight for Missouri," the president said of Hawley.
"We'll never ever get a vote from Claire McCaskill," Mr. Trump said, pointing to her promised no vote on Kavanaugh as the most recent example.
The president ended the hour and fifteen minutes rally with another push to get out the Republican vote.
"For years you watched as your leaders apologized for America. Now you have a president who will never apologize for America, but only will stand up for America," Trump said, adding:
We are standing up for your values we standing up for Missouri, and we are standing up for our national anthem.

To continue this momentum, to protect your family your jobs and country . . .

You need to get out and vote Republican, and vote for Josh Hawley.
"We are going to win,win, win," the president said, adding:
We will win for our families

We will win for our freedoms

We will win for our great American flag

We will not bend we will not break. . .

We will always fight on to victory.

Our hearts truly bleed red white and blue.

We are one people one family and one glorious nation under God
"Go vote for Josh!" were the president's closing words as the event ended.
http://feedproxy.google.com/~r/breitbart/~3/V4AqaCZEjtM/